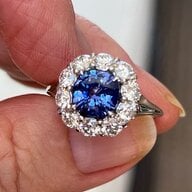 Joined

Aug 18, 2013
Messages

8,611
diamondseeker2006|1471999751|4069264 said:

I had forgotten didiamond had that many diamond engagement rings!

All 5 are three stone rings, too!

Ooops, make that 6! The asscher ring in the separate picture is not in the top picture!

I just happened to find the specs on the diamond three stone rings in the top pic!

Thanks, DS! And just to add....

(WOW!)

And thanks for all those stats; her individual rings are posted all over the place, and it would have been a bear of a thing to get them all together. So thank you!