Note: You should read about ideal-scope before trying to understand ASET
The ASET scope is based on a principle discovered by Mr Okuda in the 1970s and added to by myself and Al Gilbertson. AGS acquired a patent granted to Al Gilbertson and simplified the design used in ASET as the basis for their 2005 patented cut grading system.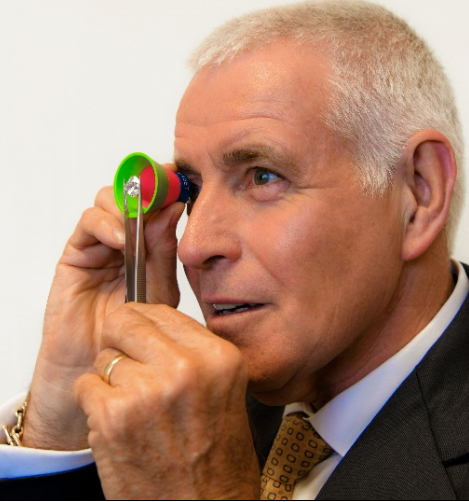 An ASET scope is like an Ideal-Scope but gives you more detailed information about a diamond. It is most beneficial for rejecting fancy shaped diamonds. Fancy shaped diamonds are more complex than round diamonds. A face-up ASET image may look great but with a tiny tilt large leakage (white) or dark zones (blue) may appear. It is best to rock a diamond while viewing it with an ASET scope as shown in this demo.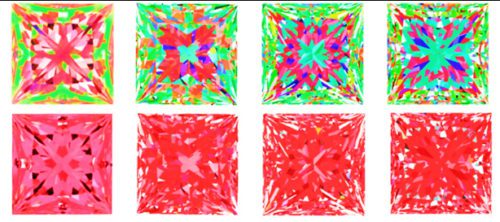 Like an Ideal-Scope, an ASET also shows a diamond's symmetry, but with additional information that is useful, for example, in identifying "painting and digging" in round cut diamonds.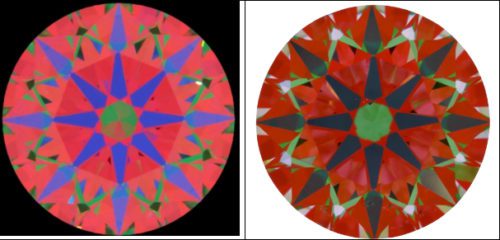 AGS developed a digital 'virtual' 'ASET black' which ha been replicated in a photographic set up called DiBox which has no light source from underneath the diamond.  Leakage appears black.  Some vendors use ASET BLack and some use ASET white making it difficult to compare one to another. Above shows both ASET's representing very similar diamonds.
History of the development of multi-coloured reflector scopes and ASET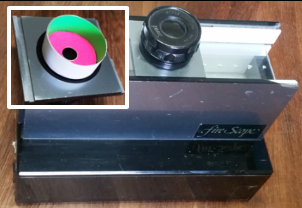 Garry Holloway's FireScope ™ acquired in 1985. Inset is the first version of a multicolored scope he used in Australian Diamond Diploma course lectures in the late 1980s.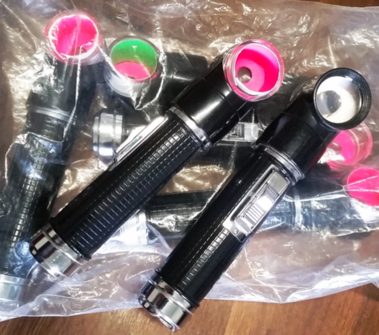 Click Here to get your ASET Scope
Garry Holloway BSc, FGAA, DipDT, NCJV.