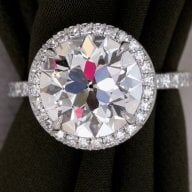 Joined

Jan 28, 2016
Messages

557
I have officially given up waiting for a sunny day to take good photos of my new upgraded engagement ring! Sorry for the delay.
Here's the story:
Since our 10 year anniversary, my husband has allowed me to search for an upgrade to my engagement ring. I thought I really wanted an antique style rectangular cushion. However, I never could find one that really excited me. Meanwhile, I caught the halo craze that spread across Pricescope. That lead me to
Victor Canera
. In April I went to a work meeting in LA and decided to take that opportunity to meet Victor in person. He was very accommodating and spend a couple of hours showing us his stones. I fell in love with the european cut rounds during that visit. He has a very beautiful 3.5 carat K CER that very nearly found a home with us. However, I had the desire and budget to go bigger and whiter and decided to embark on a custom cut CER.
We officially committed to the stone search around May/June. I wanted a 4-4.5 carat, I, VS. I wanted at least a 10 mm stone. We lost one stone because we couldn't move the wire fast enough. Lesson learned, we set everything up with the bank to wire only on a phone call from one of us (not an easy task, I assure you). We lost another rough at auction. Victor was good to keep us in the loop and pitched several stones at us that were close to the criteria but not exactly what we wanted. It was interesting to see how the rough diamond market moved. We kept looking. In late July Victor found a 14 carat stone that could yield my 4+ carat stone and a 2 carat for his stock.
Our portion of the rough was projected to yield a 4.3 carat I VVS2 CER. His was projected to yield a 2.0 ct I VVS2 H&A.
Here is the rough in suboptimal lighting conditions: