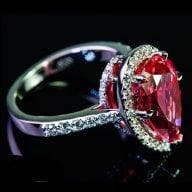 Joined

Apr 22, 2004
Messages

38,323
Hard stones are not necessarily tough stones. There is often the misconception that a high MOH score also means that the stone is able to resist blows as well as abrasion. Toughness is a measure of how much impact energy can be applied to weak points such as sharp edges of facets and corners of a gemstone without breaking. All faceted gemstones are brittle to some degree but other varieties will chip excessively even with proper care and set in a protective style setting.

Cleavage is a weakness due to the crystalline structure of the gem. It can have more than one cleavage plane which means that when enough pressure is applied in the right location, the stone will split into two (or more) pieces. The orientation and location of the cleavage can incrrease the possibility of chipping along some edges of the stone, regardless of its hardness.

Corundum: No noticeable cleavage, is very tough and very hard.
Chrysoberyl: No noticeable cleavage, is reasonably tough and very hard.
Spinel: No noticeable cleavage, is very tough and very hard.

The next few are not recomended for everyday wear rings with explanation to follow:

Topaz: Has perfect basal cleavage, meaning it is likely to be damaged by a blow or when dropped on a hard surface. Thus it is best suited for an occasional wear ring.
Garnet: Tough enough for use in rings but does not resist wear as well as those mentioned above. An exception is to be made for demantoid garnets which is quite low on the MOH scale.
Zircon: Rather brittle and the artificially whitened zircons are especially prone to breakage when worn in rings.
Beryl: Rather brittle so facet wear will show around the table area more easily.
Tourmaline: Rather brittle and thus more likely to chip and show facet wear. Its toughess is rated as fair to poor.
Kunzite: Pronounced cleavage so it is best not to set in a ring.
Quartz: No pronouced cleavage and is fairly tough. In time, the facet edges will dull from friction with common dust (which is usually powdered quartz). Very little risk of fracture unless (like every other stone and diamond) the impact is severe.
Stone with quartz basis like chalcedony, carnelian, agate, jasper and etc are tougher than clear crystallized quartz due to its internal structure. These type of waxy stones are very wearable.
Jade: An exceedingly tough material and fairly hard, thus it is extremely wearable in almost every fashion. The reason for this toughness is due to its interlocking fibrous internal structure. This includes both jadeite and nephrite.

Peridot: Rather soft for ring use and also prone to facet wear and chipping.
Turquoise: Fairly tough material but is porous enough to absorb oil and other liquids which might affect its colour.
Moonstone: Pronounced cleavage and lack of hardness means it is not a good candidate for a ring setting but as most are rather inexpensive, it may not matter.
Opal: Soft, brittle and cracks easily. Will require repolishing over time if worn in a ring.