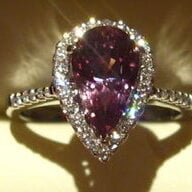 Joined

Jun 29, 2008
Messages

10,228
Over the years, we've seen quite a high number of threads from people who have either inherited or bought a ring that is purported to be an Alexandrite OR a Russian Alexandrite. Unfortunately, most of these threads end up with confirmation they have (usually) synthetic corundum laced with vanadium to produce the colour changing properties. Unfortunately even from the turn of the century, which surprises many people, synthetic corundum was used in place of genuine gemstones. The science of imitating Alexandrite has of course advanced and flux grown Alexandrite is very common (and looks very much like the real thing) and also Czochralski Alexandrite that tends to be quite teal looking in daylight although much less common can be found.
To put it into perspective, especially when looking at Russian Alexandrite, only 2,000 kilos of rough were mined in the Urals in the 1800s. When you think how much is lost in the faceting process, you can see that it wouldn't have been a gem that was easy to get hold of! To compare, from the same mine came around 20,000 kilos of Emeralds
Since the original find in Russia, other sources of Alexandrite have been found in Brazil, India, Madagascar, Tanzania, Australia and Myanmar. None of these finds have been long lived or plentiful but some beautiful examples have been found certainly in Brazil, Tanzania and India. In 1987 in Brazil there was a find at Minas Gerais that lasted around 4 months, the total .mined weight was around 50kgs. The one thing all the finds from around the world have in common is that the Alexandrite must be green in daylight (perhaps with a secondary of blue, brown or grey) moving to a pinky-mauve in the evenings. Although I have seen red flashes in some Alexandrite at night, I've never seen one change to "red" and with the exception of the Timo Hammid Alexandrite, I don't know that one exists (and I don't know anybody who has seen that gem in real life or whether the photograph of it is accurate or not).
So what are the warning signs to look for?
1. How big is the gem? If it's a big one then start thinking you're either going to be very wealthy OR (more likely) that it's synthetic.
2. Are there inclusions? If it's too clean, you need to start thinking synthetic again. Alexandrite is a Type II gemstone which means that inclusions are expected in the gemstone. Of course there are eye clean ones available but these will cost you much much much more than one with inclusions!
3. If there are inclusions, what do they look like? In synthetics you can often see small dust like particles, gas bubbles, curved striations or even feathers.
4. If the gem isn't green in daylight and then a pinky/purple at night it's definitely not a natural Alexandrite. The only exception to this is a poor quality Alexandrite – these can be khaki/brownish during the day and move to an orangey sort of colour in the evening.
5. If you pick up your normal camera and take a photo of the gem in daylight and the picture resembles what you see with your eyes (ie a green gemstone) then you're either a very talented photographer OR the gem you have is not Alexandrite. Due to the way the gem reacts, it's virtually impossible to photograph accurately. Even with natural Alexandrite, the gem will photograph as a purple colour (even though you're looking at a green gem and it's poor quality and you've never seen it colour change)!
6. What's the cut like? Old stones will not have precision or modern day faceting (unless they've been recut). Typically up until about 10-15 years ago, the majority of Alexandrite was cut to preserve weight so you'll often see wonky culets, lopsided cuts etc. Of course there are much better examples on the market but these will be expensive.
7. Lastly, the old chestnut it's a "Russian" Alexandrite. If somebody sells you one like this then ask for PROOF ie a lab report. Do not accept their word. There are so few on the market, if any. Unfortunately the word "Russian" is mis-used for sales purposes and, in some cases, to drive up the selling price by unscrupulous sellers. Labs can sometimes identify locality for Alexandrite but not always. If the gem doesn't have a report from a reputable gem lab do not accept that it's Russian even if the seller's grandmother was called Ekatarina and only moved to the US in 1902 or whatever!
8. One test (but it's not conclusive on its own) is to look at the Refractive Index of the gem. Alexandrite should be 1.741-1.760.
Very few gemologists have been lucky enough to see Russian Alexandrite in any quantity whatsoever and from that location the gem is so rare that a huge proportion of gemologists won't have seen any at all. They may well have seen Alexandrite from other locations though. Labs also cannot always determine provenance and buyers need to be aware. Typically however Labs have seen Alexandrite from other locations so will be able to give you a good idea if there are any doubts.
The value of Alexandrite is primarily in the strength of colour change, the size, the clarity and location (unless verified Russian) doesn't really play much of a part in the equation. A good Alexandrite is going to fetch top Dollar and that's the reason why this gem is often mis-sold. Buyer beware!
Please click here to see a natural alexandrite and how it changes colour:
http://youtu.be/f86t50LoEL0
Think about this when you jeweller tells you that you've just bought a Russian Alexandrite (or even an Alexandrite) - Even labs get it wrong!
http://online.barrons.com/article/SB50001424052970203511504576329081143859922.html?mod=googlenews_barrons#articleTabs_article%3D1
Photo 1 - pictures of synethic Alex (courtesy of David Weinberg)
Photo 2 - pictures of natural Alexandrite on
www.multicolour.com
showing the difference in quality and colour change
Disclaimer: The above is merely from my experience as a collector of this gemstone for over 20 years. If any of the above is incorrect, please feel free to say and also add any comments you feel may be helpful!