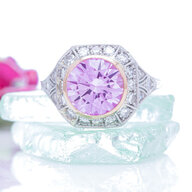 Joined

Dec 15, 2019
Messages

172
Yeah yeah yeah. We all know. Different strokes. But let's stress proper terminology. Bc we are PS. We know the difference. We respect GIA so much— then don't be coy about using lab diamond when you wear it. That's all!
Not trying to incite, just seeking clarity of how you expect this to happen, a placard announcing its a lab diamond when its worn?
Using the right terminology lab vs earth mined on PS is expected, anyone trying pass one for the other in my own opinion, must be insecure or have an ulterior motive. I haven't been here long enough, I see most people will post on the right section of the forum.
In real life I will never ask anyone if their ring is a diamond, but for the sake of your post, if I ask or anyone asks-- are you expecting the response to be 'diamond ' or would you want them to immediately respond earth mined or lab diamond.
I would understand your response if this was being discussed on hangout or any of the other parts of PS. The fact that most if not all posts about lab diamonds are here negates this particular response. No one here is trying to pass one off as the other. In real life in my circle no one cares what your ring is made of, so no one would ask. Again its about choice. Regardless of price, value ascribed, the real possibility of declining price ( which I am looking forward to). They are all petty things we can enjoy. To each their own
Last edited: