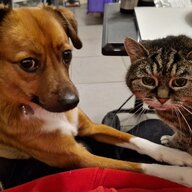 Joined

Jul 7, 2013
Messages

6,572
Personal preference - it's good to have these new options!

I reeeeeeeeeeeeeeeeeeeeeally want an Octavia or a vintage Yoram asscher in MMD, as I will never be in the situation where I could afford a Mined stone in the colour/clarity/carat I would like! (2.5ct+, F+, VS1+)

Even then, as already mentioned earlier on this thread, an MMD of this size and cut quality from an artisan such as Yoram is going to run into five-figures... but that is an easier sell than, what, £40k+??
I shall keep playing the lottery, don't need to win big, just enough for a MMD Octavia in the low 5-figure sum!
DK