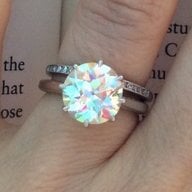 Joined

Dec 14, 2009
Messages

2,457
@OoohShiny @lovedogs

Yes, I'm here

!! I've been standing on the sidelines, enjoying this thread and guess now is the time to say something. I definitely have a neat story to tell about this unique stone! And I am so excited to tell it!! The Octavia will be my forever ER and I am beyond thrilled!

I will say, before my official thread, that Yoram is an absolute artist and is full of knowledge (that he willingly shares). He's patient, kind, and is so so incredibly talented. I knew that already but have been able to see this on a different level through this process the past few weeks, and it has been a wonderful journey!

BTW, I may also have a few extra treasures (cut by Yoram, of course) coming in the same package as the Octavia

. I'll keep you all posted! Hope everyone has a sparkly day!
So excited for you!! It looks phenomenal!!!