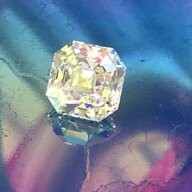 Joined

Aug 18, 2018
Messages

223
PINCH ME, I'm dreaming!!!! I still cannot believe that this is mine

Adam at OWD knocked it OUT OF THE PARK for me!!! Here's my story, and photos (of course):
I have had several different iterations of ERs over the years, from diamonds to sapphires. I had some unexpected and life threatening medical challenges this year, and am blessed to still be here with my family! So, as a celebration, we decided on an upgrade. I came to this forum at the beginning of summer thinking I needed to find an asscher (I wanted something unique), well, little did I know what would await. As I was searching for perfect asscher parameters I saw "OEC". I had no idea what that was, but opened the thread and BAM! I was hooked! I knew it was the perfect cut for me!! I am a simple girl, but love sparkles! I looked on vendors sites and sent emails, but nothing really fit me. In desperation, I called Adam.
I cannot express how incredible Adam and his service (and obviously his stones) is!! He would answer texts and be very quick to respond whenever I had a question or thought. He sent me his nicest OEC that was a beautiful cushion shape to try, but I realized I was not a cushion girl. Then he sent me a two beautiful OECs- one seemed to fit so we set it and thought we were good. But I couldn't get used to the stone. It just wasn't "Me". I was worried to tell Adam, but he was so wonderful and kind and said he had something special in mind for me. What he sent BLEW ME AWAY!!! I could never have imagined such a gorgeous stone- to me, it truly is perfect! I have named him KOTA because to me, he is King Of Them All
. There really is something to the right stone finding you, and mine found me! I am so lucky that Adam let me buy it- and become his friend in the process. I have lots of goodies on my wishlist now

!
Adam's bench was able to fit my perfect stone into the setting they already crafted, which made me very happy. Until we can find a "perfect" and unique vintage setting, this one is my dream. It's an 18k yellow gold OWD Crown 8 setting, and it is the most comfy ring ever!! Adam and my DH even surprised me by putting tiny diamonds inside the shank to signify our children. It's hard to drive and get things done because I am still looking down, in shock that it's mine! Thanks for letting me share and rave about my experience! I am so excited to be part of the community here and an OEC owner!
Without further ado, the stats and photos...
4.03 K / VS1
10.12x10.15x6.35
table- 46%
depth- 63%
faint flour