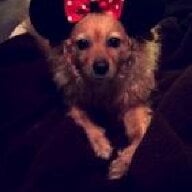 Joined

Oct 23, 2011
Messages

5,120
Just skimming this thread, I want to express my opinion on something. I can see a purpose for LGD as well as mined. If I were 22 getting married right out of college with no money, would I rather have a high color/clarity 1 ct lgd, a low color/clarity 1 ct mined diamond, or a nice quality .5 ct mined diamond? I will tell you that I easily would choose the lgd because quality matters to me and a .5 is just way too small for me. So in that scenario, the lab stone would win. And I do think many young couples will make that choice once well cut lab stones are more accessible and known. What a lgd would do for me is allow me to have higher color, clarity, and size than I might be willing to pay for in a mined stone. I am waiting for prices to go down, however.

Also, the only comment anyone has ever said toward a ring I am wearing is, "Oh, your ring is beautiful!" My reply is, "Thank you so much!". I do not give any other information. I have zero obligation to say, "Thank you...it's a naturally mined diamond" or "Thank you...it's a lab grown diamond". A diamond is a diamond, period. I do not wear czs because those are fake. Lab grown diamonds are not fake, and I don't believe anyone has any obligation to give that information other than posting on PS which requires lab grown to only be posted in this subforum.

I didn't know a PSer bought Yoram's Octavia lgd! She needs to post it here! I can't think of who it might be.
It would be very convenient to let everyone assume all diamonds are the same. And to an extent, I get that no one out there is really asking you and they will make that assumption regardless. But to assert there is no difference—why would GIA distinguish? In fact, they brand them. Kind of like the way designers brand their jewelry. Let's say VCA— you can buy the exact same piece made of the same exact materials if you hire a talented artist to do it—the only difference would be the source and origin. Should people refer to that replica as a VCA? Or by its proper name, a replica? Source and origins of LGDs are different than mined. Therefore, different. And when people come in this forum to assert they are the same—that is where my disagreement comes in—bc we know better.
Last edited: