By
Erika Winters
If you missed the Lady Heart Diamond Collection exhibition, you're in luck, as the Los Angeles Natural History Museum has extended the temporary show until December 1, 2013. The exhibition features five red, pink, orange, yellow, and blue diamonds. The rare diamonds are all heart shapes ranging from 1.71 to 2.28 carats–set in custom-designed jewelry pieces–at the museum's "Gem Vault" in the Gem and Mineral Hall.
The fancy pink, orange, yellow, and blue diamonds at the NHM exhibition have been graded "fancy vivid" by the Gemological Institute of America, the highest grade of those colors. According to GIA, only a handful of the millions of diamonds mined each year achieve this coveted grade.
The heart shapes are also quite rare, according to Bernard Bachoura, a fourth generation jeweler from Sophia Fiori and designer of the Lady Heart Diamond Collection. "While the diamond is in the rough, the final shape of the stone is determined by the diamond cutter based on which shape will best maximize carat weight, symmetry, and value. The unusual heart shape requires the cutter to sacrifice significant carat weight in order to achieve the desired result. It makes the heart shape a risk the cutter must be certain he or she is willing to take," said Bachoura.
The NHM exhibition reflects the growing popularity of fancy-colored diamonds, as more retailers are offering these gems than ever before. For those seeking a unique alternative to traditional "white" diamond jewelry, fancy colors deliver a diamond's sparkle in a rainbow of hues. And while the ultra-rare fancy-colored diamonds make headlines, like the $46.2 million Graff Pink and the 1.92-carat fancy red diamond that fetched over $3.2 million at Christie's in May 2013, these gems come in all shapes and sizes with affordable prices to boot.
The Lady Heart Diamond Collection can be seen at the Natural History Museum of Los Angeles County until December 1, 2013.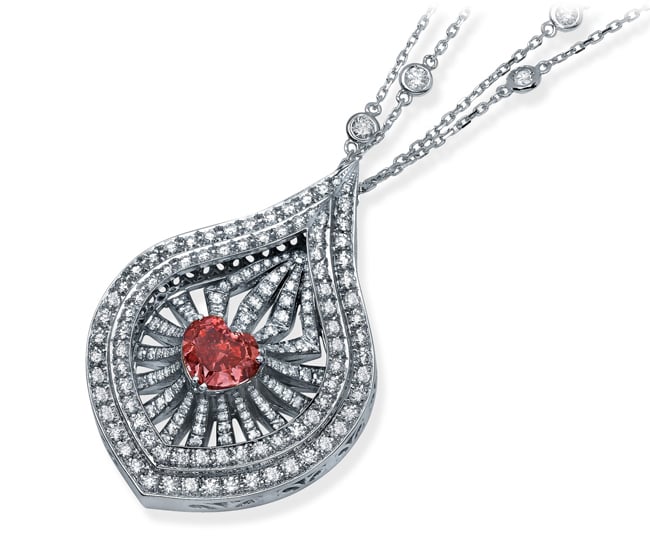 The Lady Leilani • 1.73-carat fancy-vivid pink heart-shaped diamond set in a pavé diamond tear-shaped pendant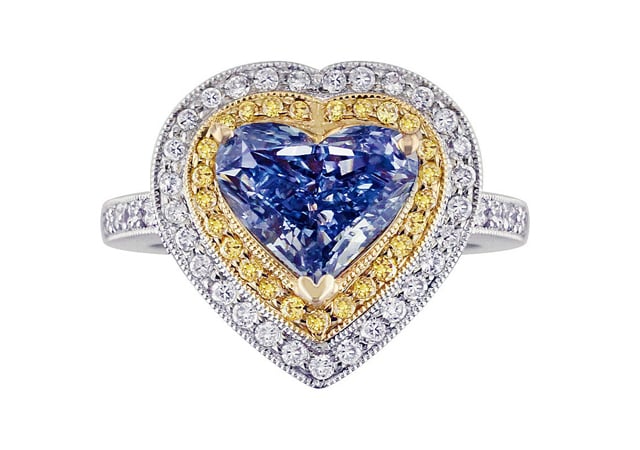 The Lady Dianthai • 2.28-carat fancy-vivid blue, internally-flawless diamond set in a heart-shaped diamond ring
Images: Natural History Museum of Los Angeles County
More on fancy-colored diamonds:
Leibish & Co. Stuns with a 50-Carat Fancy Intense Yellow Diamond at JCK 2013

Rio Tinto Releases Limited Edition Argyle Pink Diamond Ingots
Rare Red Diamonds to Heat Up Rio Tinto's Argyle Tender