By
Erika Winters
Rio Tinto's annual Pink Diamonds Tender showcases some of the world's rarest fancy-colored diamonds from the Argyle diamond mine in Western Australia. And for the first time in the mine's 30-year history, three rare red diamonds will be offered at the exclusive sale. The largest of the red diamonds is the 1.56-carat Argyle Phoenix, named in honor of the new Argyle underground mine.
"Since mining began in 1983 only six diamonds certified as Fancy Red by the Gemological Institute of America have been presented for sale at the annual Tender.
To have three of these rare red diamonds in one Tender is a very special moment in time," said Argyle Pink Diamonds manager Josephine Johnson.
The 2013 tender is comprised of 64 diamonds, including 58 pink diamonds, three fancy red diamonds, and three blue diamonds. The tender showcases the mine's best production from the year.
The collection includes a remarkable group of "hero" stones, and for the first time in eight years, a diamond over three carats will be featured at the tender, the 3.02-carat fancy-intense orangy-pink diamond named the Argyle Imperial. And an unusual .71-carat heart-shaped blue diamond named the Argyle Celestial is expected to sell with a matching fancy pink diamond.
The 2013 tender viewings will be held in Perth and Hong Kong with previews in Sydney, New York, and Tokyo.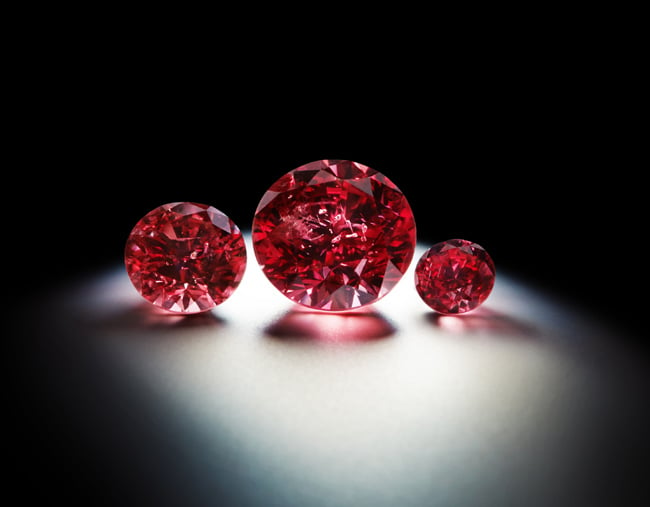 The 1.56-carat Argyle Phoenix, the largest fancy red diamond ever offered at tender, is flanked by two fancy red diamonds from the 2013 Argyle Pink Diamonds Tender collection.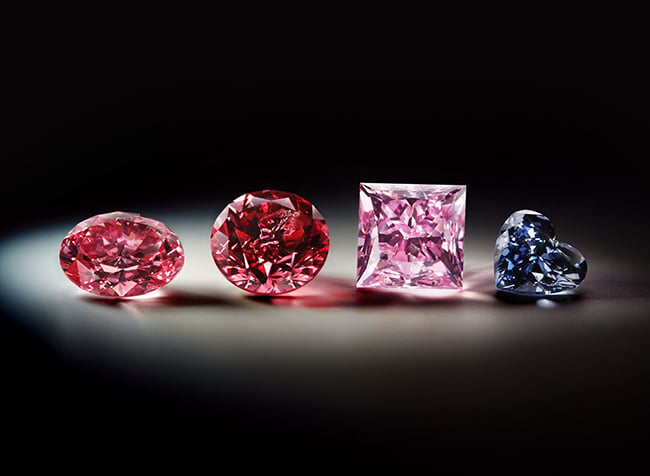 Left to right: Argyle Aurelia, 1.18-carat oval fancy-intense purplish-pink diamond • Argyle Phoenix, 1.56-carat fancy red diamond • Argyle Seraphina, 2.02-carat fancy-intense purple-pink diamond • Argyle Celestial, 0.71-carat fancy dark grey-blue diamond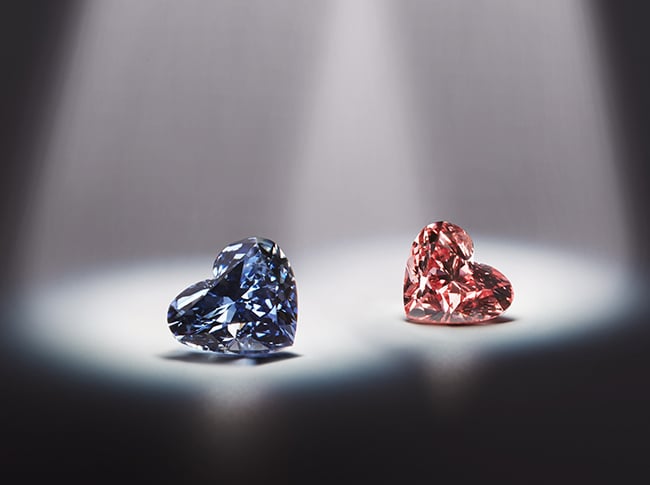 The 0.71 Argyle Celestial blue diamond with a twin pink diamond
Images courtesy of Rio Tinto Diamonds.
Related Blog Topics:
Pink Diamonds and Imperial Jade, Rio Tinto Debuts The Argyle Empress Necklace
Rio Tinto's Highlights from "Out of the Vault: Pink Diamonds and Royalty"