By
Erika Winters
Rio Tinto has released limited edition pink-diamond ingots commemorating the Spring 2013 opening of the Argyle underground diamond mine. The one-ounce, 22k pink-gold ingots are each set with seven Argyle pink diamonds in the branches of a boab tree. The ancient boab tree is native to Western Australia's Kimberley region, where Argyle's pink diamonds were formed over a billion years ago.
"We are delighted to partner with the Perth Mint on the exclusive release of this distinctive investment piece. It is a beautiful symbol of the unique Argyle story and the recent milestone commencement of underground mining," said Kim Truter, managing director of the Argyle Diamond Mine.
Last April, Rio Tinto announced the official opening of Argyle's new mine, moving from open-pit mining to an underground operation. According to Rio Tinto, the change will extend the life of Argyle until at least 2020. The $2.2 billion underground mine is expected to yield 20 million carats annually.
The Argyle mine produces some of the world's rarest diamonds, including fancy-colored diamonds sold at the annual Argyle Pink Diamonds Tender. Argyle also contributes to the East Kimberley region's economic development with over 70 percent of the mine's workforce living locally. And one in four of Argyle's workers are indigenous Australians.
Valued at $4,880, the pink-diamond ingots will be available starting on June 18, 2013, and only 168 ingots will be released for sale worldwide. Visit the Perth Mint for more images and details.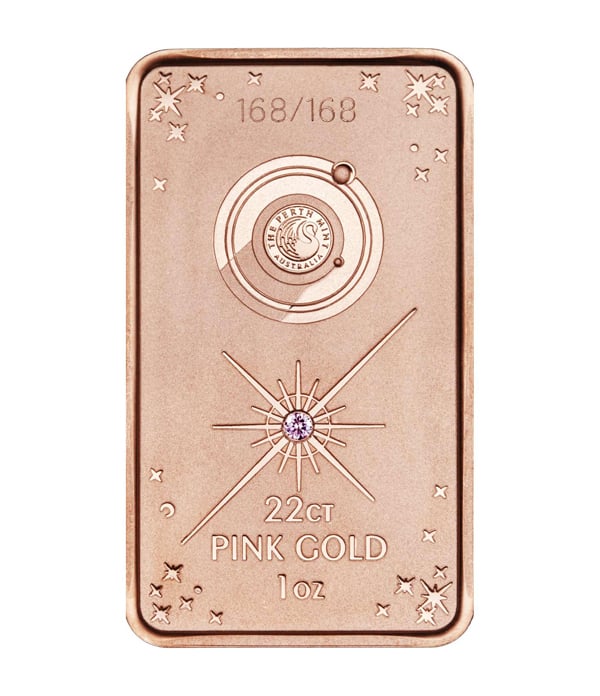 The Limited Edition Argyle Pink Diamond Ingot is available at the Perth Mint.
Related Blog Topics:
Rare Red Diamonds to Heat Up Rio Tinto's Argyle Tender

Rio Tinto's Highlights from "Out of the Vault: Pink Diamonds and Royalty"