By
Erika Winters
We love jewelry apps that make engagement ring shopping fun, so when Jeff Cooper shared its new virtual try-on app for the iPad and iPhone, we had to give it a whirl. The New York-based bridal jewelry company debuted the app at the 2013 JCK Luxury trade show, but it is now available to the public. Check it out over at iTunes.
So how does the app's virtual try-on feature work? As you can see from my screen snaps below, I had some fun trying on rings from Jeff Cooper's Heirloom collection. And what's cool is that you can take a photo of your own hand to see what the designs look like on you. I started with the model to get a general sense of styles and then added my own hand image later (not shown) for the full effect. The app also has a mirror function that allows you to view rings on your hand in real time. And after trying on engagement rings and wedding bands, the app's easy "Share" button allows you to post the ring to Facebook or email your significant other to send a hint!
In addition to the virtual try-on, the app hosts an easy interface for scrolling through Jeff Cooper's collections–with ring videos for more viewing angles. You can also access the try-on feature from individual product pages for a quick look on the hand.
Check out some of the app's highlights below, and give it a try–it's free!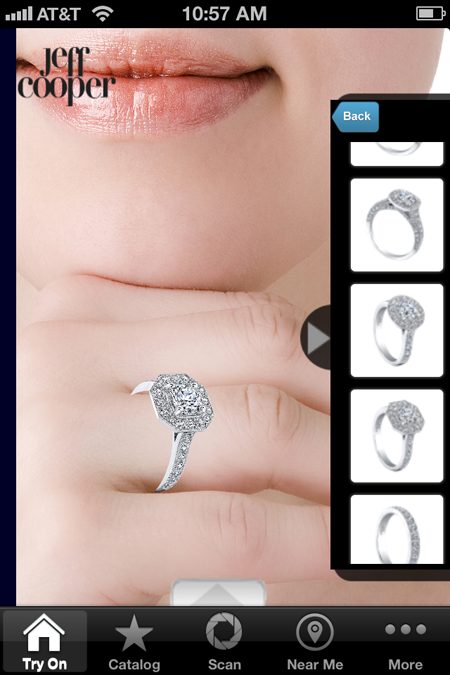 Jeff Cooper's Helena ring from the Heirloom collection • A simple tap on an image to the right places the ring on the model's (or your) hand. To size the ring to fit you perfectly, tap the ring (while on the finger) and a green square outline will appear. From there you can twist or turn the ring and pinch or expand it to fit.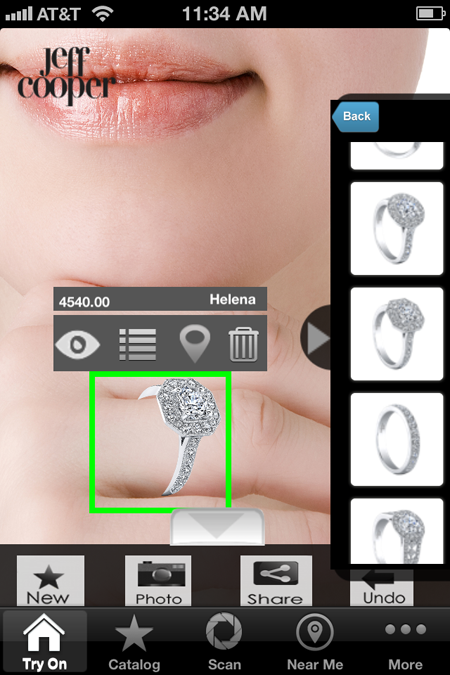 After you've sized the ring to fit your hand, you can tap to get the green outline again for more info, including price and icons that take you to product and collection pages. You can also access a map to show you local retailers. And the "Share" button lets you post on Facebook or email friends or your significant other to send a hint!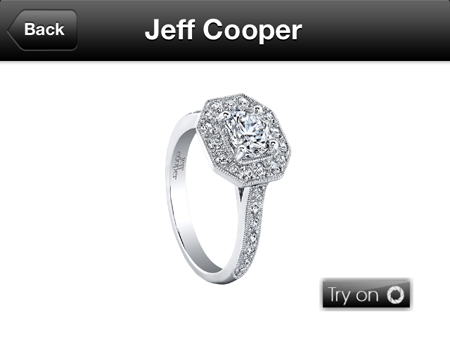 You can also access the virtual try-on feature from each ring page in the app.
Related Blog Topics:
Jeff Cooper Designs to Cycle For Cancer Survival