Jewelry Search
Find the perfect Ring or Gift
PS Welcome - YouTube
All about PriceScope
Tue, 18 Jun 2013
Van Craeynest Brings Old-World Craftsmanship to JCK 2013
H1:
Van Craeynest Brings Old-World Craftsmanship to JCK 2013
By
Erika Winters
At JCK's annual jewelry trade show, the focus is often on "what's new" with lots of buzz about the latest in jewelry design and technology. But Van Craeynest embraces tools and techniques used over 100 years ago, creating some of the most magnificent vintage-inspired jewelry in the business. It was a pleasure to meet with the team at Van Craeynest, who took a great deal of time and care showing us their detailed, die-struck designs in their booth at JCK's Prestige Promenade.

At first glance, Van Craeynest's collections appear to be comprised of original vintage pieces. But while the jewelry is newly-made, each piece has been die-struck from original vintage dies or hubs. (Hubs are the original blueprints for the designs.) Many of the company's dies and hubs were created between the 1920s and the 1940s, but you will also see Victorian and Art Nouveau-inspired styles that were created from 19th and early 20th-century designs by company founder Roger Van Craeynest, a master die cutter, designer, and engraver.

Each piece shown in this blog has been die-struck, a process which forms jewelry by compressing metal under tons of pressure, ultimately changing its molecular structure to create a more durable design. Many of the pieces have also been engraved, saw-pierced, carved, and chased. Visit Van Craeynest's workshop to learn about these techniques in detail.

And while the company recently changed hands and moved from San Francisco to Redlands, California, CEO Paul Emerson II told us that he is committed to preserving Van Craeynest's legacy by using the original tools, techniques, and craftsmanship that clients have loved since the company was launched in 1926.

Enjoy our highlights from Van Craeynest at JCK 2013.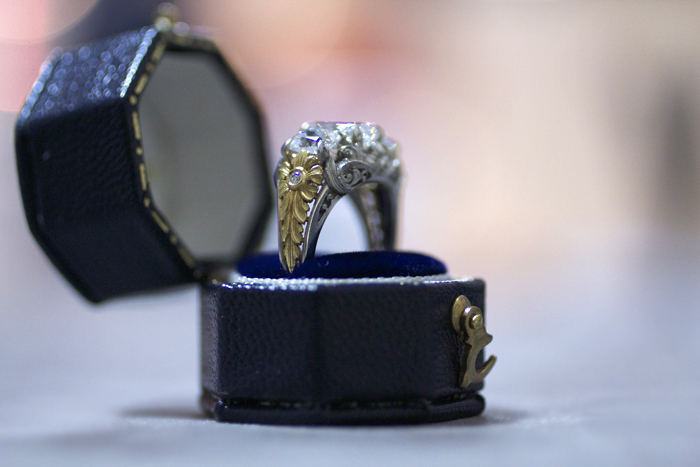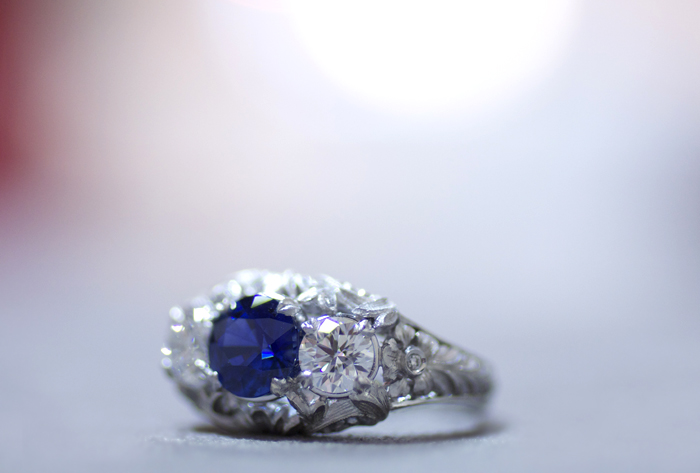 3-stone engagement ring style E.968.3C.2 in yellow gold and platinum with diamonds (top) and with sapphire and diamonds in platinum (bottom)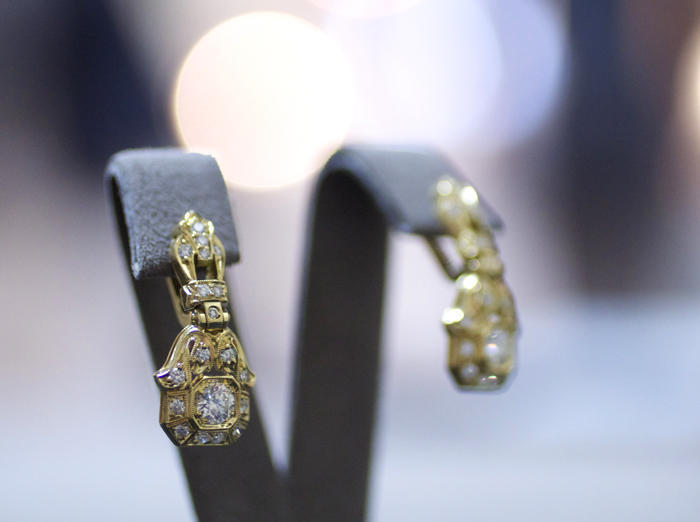 Diamond earrings in 18k gold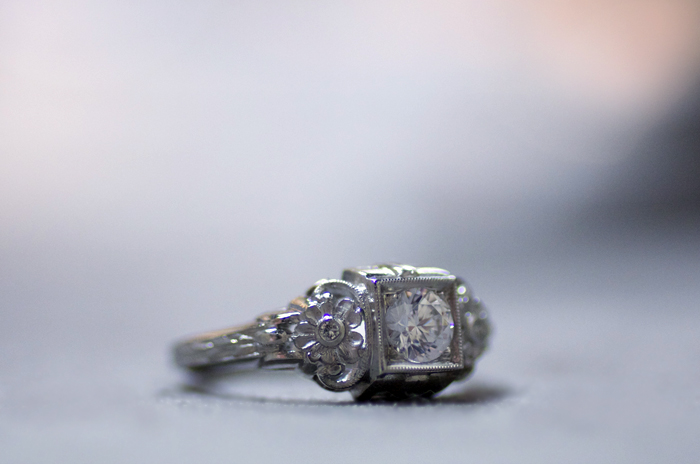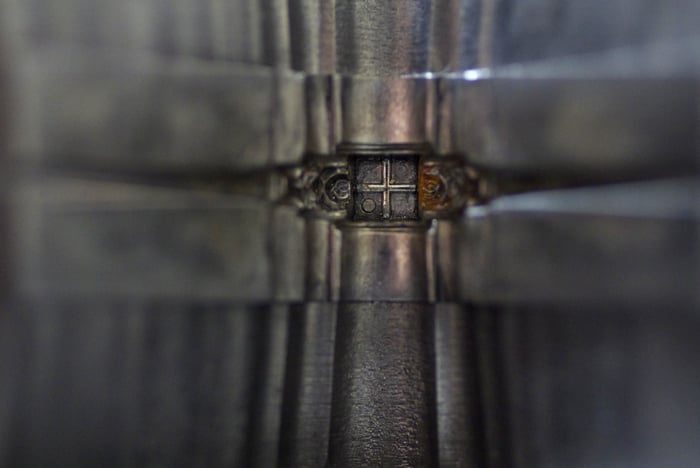 Diamond engagement ring style E.866.3 (top) and original die (bottom)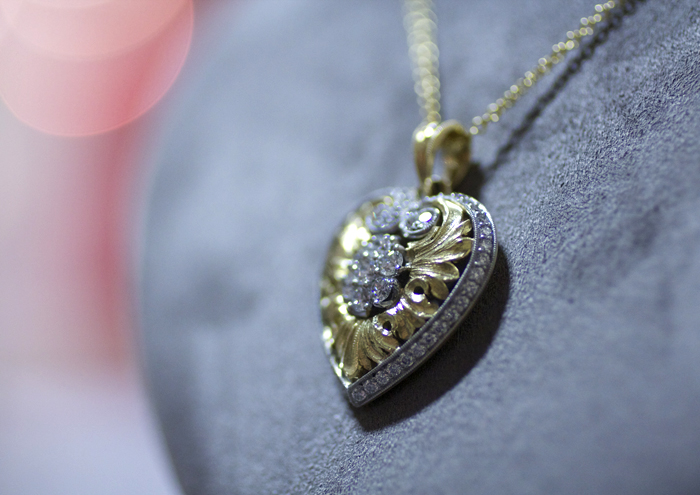 Art Nouveau-style pendant in platinum and 18k gold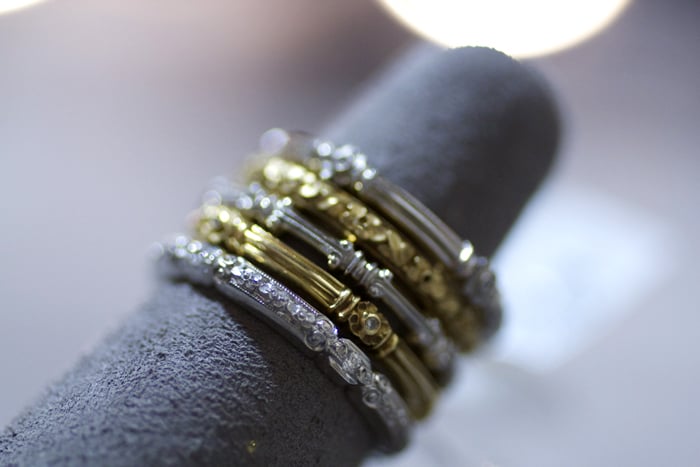 Assorted wedding bands in platinum and 18k gold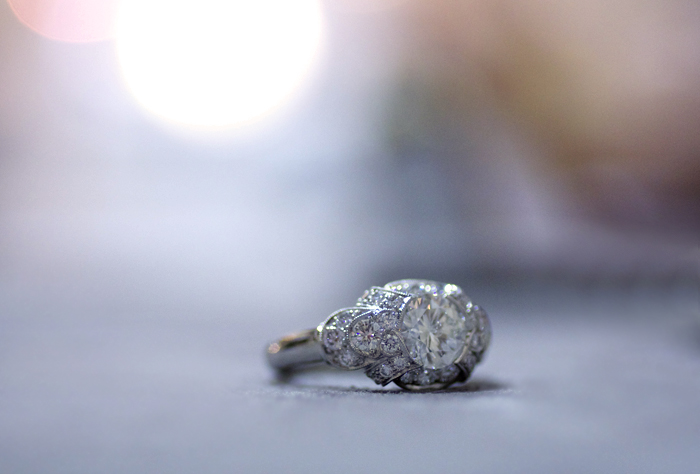 Art Deco-style diamond and platinum ring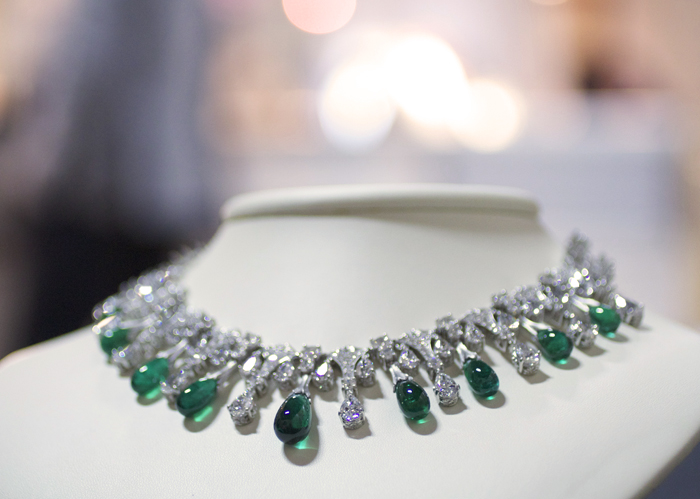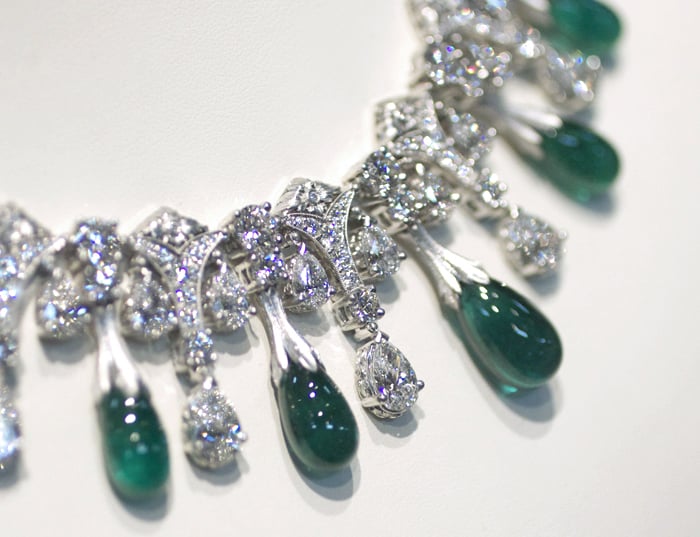 A work in progress: Emerald and diamond necklace with 100 carats of diamonds and approximately 55 carats of emeralds...valued at $3 million
Join our ongoing discussion about Van Craeynest:

Show me some Van Craeynest!