By
Erika Winters
Bridal design house Jeff Cooper Designs will be participating in the indoor cycling event, Cycle for Survival, benefiting Memorial Sloane-Kettering Cancer Center on February 2, 2013. Jeff Cooper's son and company designer David Cooper will be riding with the team for cancer survival for the third consecutive year. He was also chosen to teach one of the sessions. Cooper is an avid indoor cyclist and cycling instructor.
With an emphasis on rare cancers, the Jeff Cooper Designs team has raised over $35,000 for cancer research. The goal is to raise an additional $30,000 this year.
"The outpouring of support, especially by industry people, has been amazing," said Cooper, a Schwinn and MaddDogg certified indoor cycling teacher. "To be able to lead a class of 100 riders cycling in front of hundreds of supporters is humbling and mind blowing, especially when you stop to think about why it is that we're all there."
This year's contributions received on behalf of the Jeff Cooper team will be matched by an anonymous donor. To donate to the Jeff Cooper Designs team, please visit Cycle for Survival. 100% of donations will go to the Memorial Sloane-Kettering Cancer Center.
"With 1 in 3 Americans diagnosed with some form of cancer in their lifetime, research is more vital now than ever." said Cooper. "I ride every year to support the family members it has affected. I ride to remember the friends that I've lost. I really do cycle for survival when it comes down to it, and I know that what we raise will aid in getting that number lowered."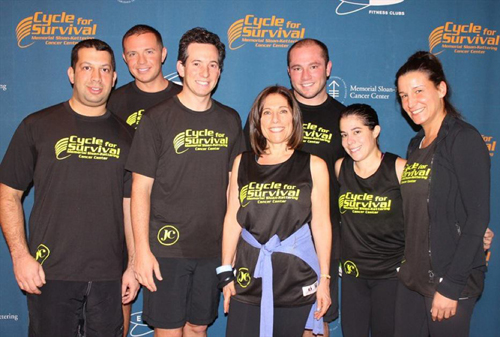 Jeff Cooper Designs 2012 Cycle for Survival team: (left to right) Andy Arner, Peter Arner, Mark Bender, Lorrie Cooper, David Cooper, Nikole Cooper, and Melissa Reinhardt.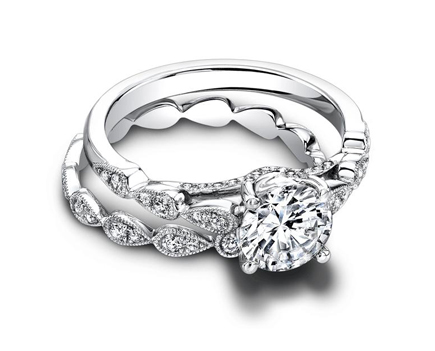 The Lily Eternity Set by Jeff Cooper Designs • A leading bridal designer, Jeff Cooper Designs was founded in 1976.
Related Blog Topics:
Sotheby's to Auction Lauder Jewels for Breast Cancer Research
Harry Winston Debuts the Hope Collection Bracelet