Jewels from the personal collections of the late Estée Lauder and her daughter-in-law Evelyn will be auctioned at Sotheby's on December 5. More than 35 pieces, including rare colorless and fancy-colored diamond jewels by Oscar Heyman & Brothers, Graff, and Van Cleef & Arpels, are expected to fetch over $13 million. Proceeds from the sale of the Lauders' collections will benefit The Breast Cancer Research Foundation, an organization founded by Evelyn Lauder in 1993.
"On behalf of the Lauder family, we are pleased to be partnering with Sotheby's for this
important auction. Each piece of jewelry is unique and very special. They were each designed to be timeless pieces that also manifest exceptional style and taste. I know that both my mother Estée and my dear wife Evelyn would be pleased
that these items are being sold to raise funds for The Breast Cancer Research Foundation. Our mission is to help women around the world so that one day this disease will be a thing of the past," said Leonard A. Lauder, chairman emeritus of the Estée Lauder Companies and acting chairman of The Breast Cancer
Research Foundation.
The Lauder jewels leading Sotheby's auction include a 6.54-carat fancy intense pink diamond ring by Oscar Heyman & Brothers and a 22.16-carat D color, Type IIa diamond ring by Graff. A fancy-intense yellow diamond of 47.14 carats, set in a diamond necklace by Van Cleef & and Arpels, will also highlight the sale. The rare heart-shaped diamond was formerly in the collection of the Duchess of Windsor.
Visit Sotheby's for additional highlights.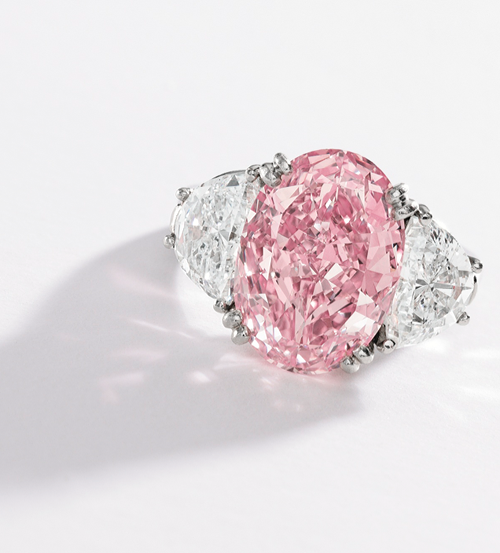 6.54-carat Fancy Intense Pink Diamond and Diamond Ring by Oscar Heyman & Brothers • From the collection of Evelyn H. Lauder • Estimate: $4-5 million • Photo: Sotheby's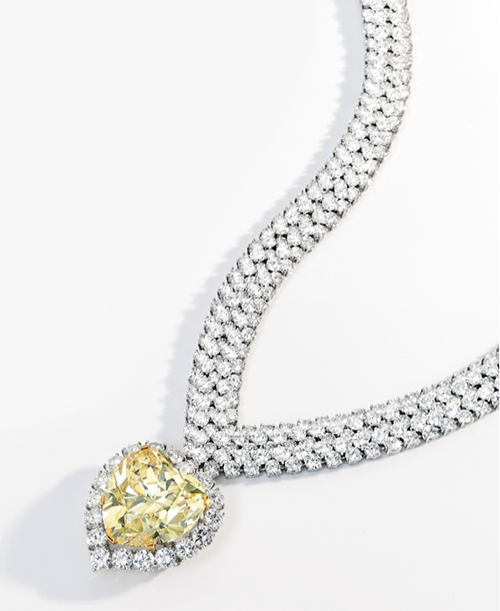 Fancy Intense Yellow Diamond (47.14 carats) and Diamond Pendant Necklace by Van Cleef & Arpels, 1978 • From the collection of Estée Lauder • Estimate: $1.5-2 million • Photo: Sotheby's
Platinum and Diamond Ring by Graff • D color, Type IIa diamond of 22.16 carats • From the Collection of Evelyn H. Lauder • Estimate: $3-4 million Photo: Sotheby's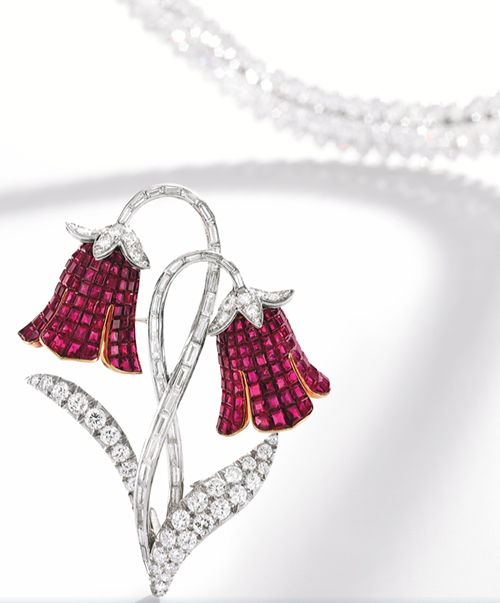 Mystery-Set Ruby and Diamond Brooch by Van Cleef & Arpels, circa 1940 • From the Collection of Evelyn H. Lauder • Estimate: $60-80,000 • Photo: Sotheby's
Related Blog Topics:
Royal Jewels to Lead Sotheby's Magnificent Jewels Sale
Brooke Astor's Jewels Highlight Sotheby's $18.8 million Auction

Sotheby's to Offer Selections from Mrs. Charles Wrightsman's Collection