Sotheby's Geneva will present a selection of jewels with royal and noble provenance at its November 14, 2012 Magnificent Jewels sale. Highlights include a rare conch pearl, enamel, and diamond bracelet formerly owned by Queen Victoria Eugenia of Spain (1887-1969). Cartier created the bracelet in the late 1920s in the "tutti frutti" style of the period, though the use of conch pearls was unusual for the time. The bracelet is expected to fetch between $800,000 and $1.4 million.
"Set with charming and rare conch pearls, this unique, sumptuous and truly royal bracelet – unquestionably one of the greatest jewels designed by Cartier during the 1920s – is offered alongside exceptional gemstones and period jewels, many of them from noble and aristocratic collections," said David Bennett, chairman of Sotheby's Jewellery Department in Europe and the Middle East.
Also leading the sale is an important pair of ruby and diamond earrings from the collection of HSH Princess Max Egon zu Hohenlohe-Langenburg (1892-1990). The pair, which is set with two Burmese rubies of 11.46 and 11.64 carats, is estimated to sell for $1.5 to 2.5 million.
The sale is comprised of over 590 lots, including period and signed jewels and rare diamonds and colored gemstones.
Visit Sotheby's to view additional highlights.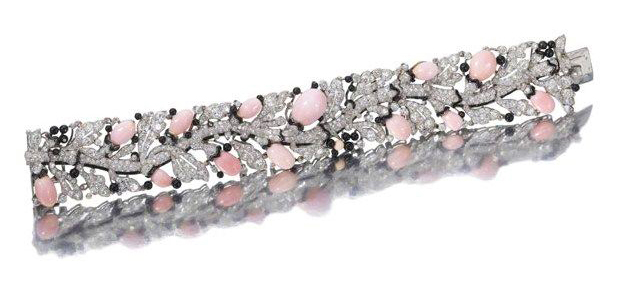 Conch pearl, enamel, and diamond bracelet, Cartier • Estimate: $800,000 – 1.4 million
Provenance: Made in the late 1920s by Cartier, the bracelet was part of the personal collection of Queen Victoria Eugenia of Spain (1887-1969), the mother of Juan Carlos, the current King of Spain. The bracelet was passed by direct descent from the queen to the current owner. Photo: Sotheby's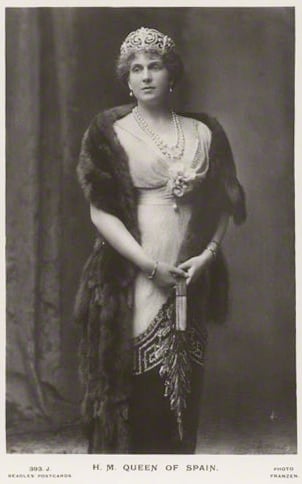 Victoria Eugenie ('Ena') of Battenberg, Queen of Spain by Christian Franzen, circa 1910
Ear pendants with Burmese rubies of 11.46 and 11.64 carats • Estimate: $1.5 – 2.5 million
Provenance: Made in 1921, the earrings were given to HSH Princess Max Egon zu Hohenlohe-Langenburg (1892-1990) for her wedding. They were a gift from her parents Trinidad von Scholtz Hermennsdorff, Duchess of Parcent, and Ambassador Manuel de Yturbe of Mexico. Photo: Sotheby's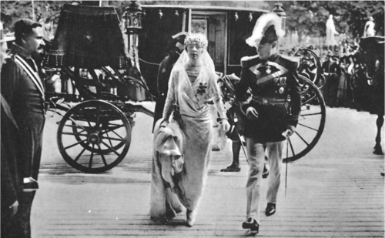 HSH Princess Max Egon zu Hohenlohe-Langenburg on her wedding day
Related Blog Topics:
Brooke Astor's Jewels Highlight Sotheby's $18.8 million Auction
Wed, 26 Sep 2012

Royal Beau Sancy Diamond Sells for $9.7 Million

Sotheby's to Offer Selections from Mrs. Charles Wrightsman's Collection