PS Welcome - YouTube
All about PriceScope
Tue, 11 Sep 2012
A Timeline of Jewels: Sotheby's to Offer Selections from Mrs. Charles Wrightsman's Collection
H1:
A Timeline of Jewels: Sotheby's to Offer Selections from Mrs. Charles Wrightsman's Collection
By
Erika Winters
A selection of jewelry from the collection of philanthropist and arts patron, Mrs. Charles Wrightsman, will be offered by Sotheby's on December 5, 2012. The sale will comprise over 60 lots of historically important jewelry pieces from the 19th century to contemporary designs by JAR. Select auction highlights will be exhibited in Hong Kong, Geneva, Los Angeles, and London before returning to New York for the Magnificent Jewels sale. The jewels, including those shown below, will be showcased starting December 1, 2012, at Sotheby's York Avenue galleries.

"It is a privilege to offer these superb jewels from Mrs. Wrightsman's collection," said Lisa Hubbard, Sotheby's Chairman, North and South America, International Jewelry Division. "Included are designs from Cartier, Van Cleef & Arpels, Verdura, Bulgari, Tiffany & Co., Boucheron, Fred Leighton and JAR. Each piece is interesting in its own right, with many fashioned to her personal specifications by her jewelers of choice, and all crafted for effect. The selection is carefully curated and meant to be worn, and together provides insight into Mrs. Wrightsman's much-admired style."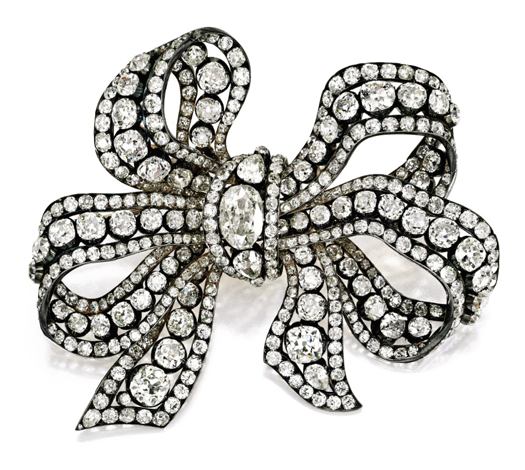 Diamond Ribbon Bow Brooch, circa 1840 • Estimate $200,000-300,000 • Formerly in the collection of HRH Princess Marina, Duchess of Kent • Photo: Sotheby's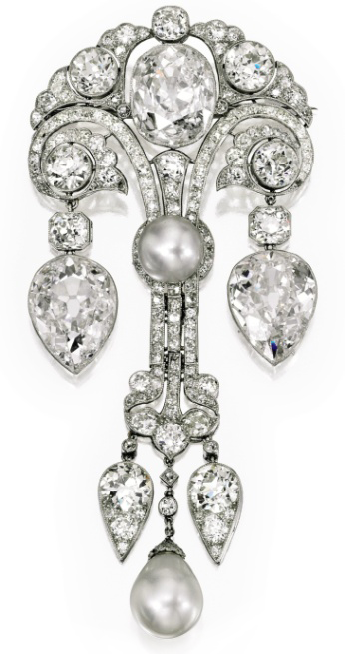 Belle Epoque Natural Pearl and Diamond Brooch, circa 1910 • Features three Golconda-type diamonds of 8.67 carats, 8.78 carats, and 9.59 carats • Estimate $800,000-1.2 million • Photo: Sotheby's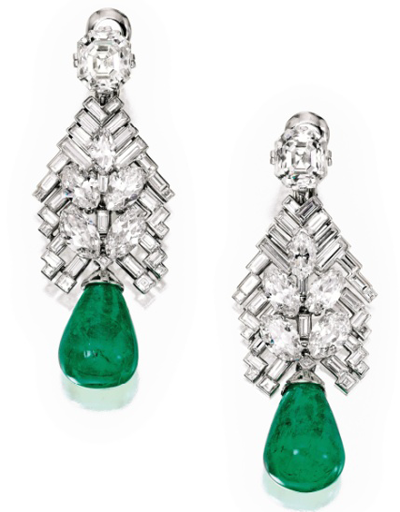 Pair of Art Deco Emerald and Diamond Earclips, Cartier London, 1934 • Features two Colombian emeralds of 50 carats • Estimate $200,000-300,000 • Photo: Sotheby's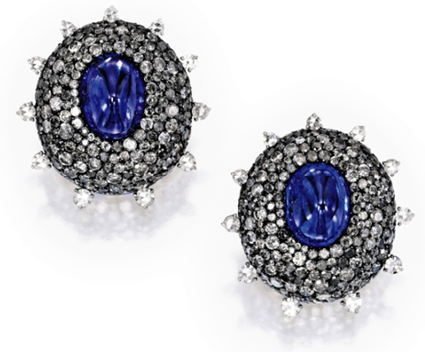 Pair of Cabochon Sapphire and Diamond Earclips, JAR Paris • Estimate $150,000-250,000 • Photo: Sotheby's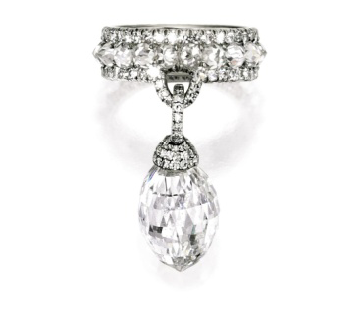 Briolette Diamond Ring, JAR Paris • With briolette diamond drop of 10.28 carats • Estimate $250,000-350,000 • Photo: Sotheby's
Exhibition Calendar

Hong Kong: 5 – 8 October

Geneva: 10 – 13 November

Los Angeles: 19 November

London: 23 – 26 November
Related Blog Topics:

Royal Beau Sancy Diamond Sells for $9.7 Million

The Most Expensive Jewelry Ever Sold at Auction

Sotheby's Announces Auction of Brooke Astor's Jewelry