"A Diamond Fit for a Queen" – Christie's has announced the auction of the legendary Archduke Joseph Diamond. The 76.02-carat diamond of D color and internally flawless clarity will be offered at Christie's Geneva on November 13, 2012. The historic stone is expected to fetch well over $15 million.
Christie's states that the diamond was officially recorded as the property of the Archduke Joseph August of Austria, Palatine of Hungary (1872-1962), although it is not exactly known when the stone entered the House of Habsburg. The diamond was named after the Archduke, who was the great-grandson of Emperor Leopold II and King Louis Philippe of France through his father and mother respectively.
The diamond's origin is traced to the famed Indian Golconda mines, an ancient source which once yielded some of the world's most renowned diamonds, including the Koh-i-noor, the Regent, and the Hope diamonds. Golconda diamonds are known for their purity and exceptional absence of color.
"The Archduke Joseph Diamond is the finest and largest perfect Golconda diamond ever to appear at auction. It is comparable in its noble lineage and superb quality to the legendary Koh-i-Noor diamond that forms part of the crown jewels of Great Britain. It is particularly fortuitous to bring this historic gem back to market in the year of Her Majesty the Queen's Diamond Jubilee," said Rahul Kadakia, Head of Jewellery, Christie's Americas and Switzerland.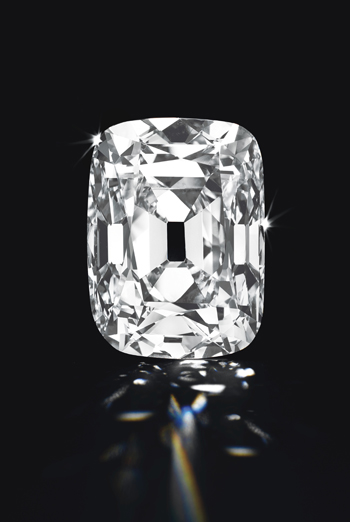 The Archduke Joseph Diamond will be auctioned at Christie's Geneva on November 13, 2012 • Diamond image © Tony Falcone
Related Topics:
JAR, Jadeite, and Burmese Ruby Highlight Christie's Hong Kong Auction
9 Carat Pink Diamond Sells for Record Price of $15.7 Million