Sotheby's sale of Brooke Astor's estate garnered a total of $18.8 million, with emerald and diamond jewels among the top lots sold. The auction, which included 800 pieces of jewelry, art, and furniture from the late philanthropist's New York residences, concluded Tuesday evening with jewelry selections from Mrs. Astor's personal collection.
Emerald and diamond jewels highlighted the auction: Mrs. Astor's engagement ring, a 22.84-carat emerald and diamond ring by Van Cleef & Arpels, fetched $1.2 million. A Bulgari emerald and diamond necklace sold for $686,500. And a platinum and diamond ring by Van Cleef & Arpels sold for $614,000.
Proceeds from the sale will benefit several of Mrs. Astor's chosen charities, including the New York Public Library, Metropolitan Museum of Art, Pierpont Morgan Library, Animal Medical Center of New York, and New York City Schools.
Visit Sotheby's for the full list of results.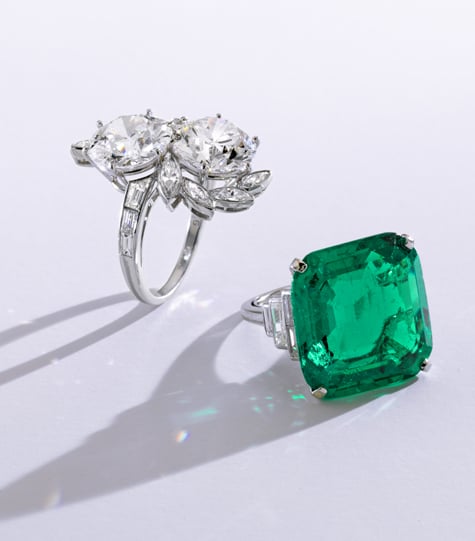 Left: Diamond ring by Van Cleef & Arpels with two round diamonds of 5.22 and 5.71 carats, circa 1963, sold for $614,500 • Right: Brooke Astor's 22.84-carat emerald and diamond engagement ring by Van Cleef & Arpels, circa 1930, sold for $1.2 million • Photo: Sotheby's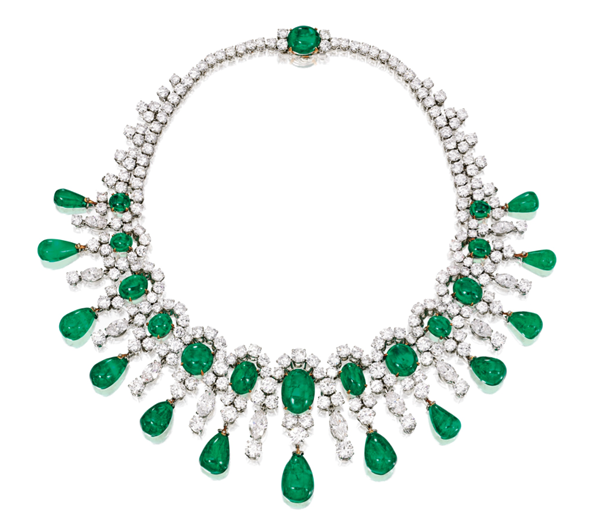 Bulgari emerald and diamond necklace, circa 1959, sold for $686,500 • Photo: Sotheby's
Related Blog Topics:
Sotheby's Announces Auction of Brooke Astor's Jewelry

Sotheby's to Offer Selections from Mrs. Charles Wrightsman's Collection