By
Erika Winters
October is National Breast Cancer Awareness Month and Alex Woo's array of charitable pendants offers a lovely way to show support for the cause. The designer is one of many affected by breast cancer, as her mother passed away from the disease. Woo's ongoing efforts to raise awareness and funds for breast cancer organizations is inspiring, and the following pendants are available at a variety of prices to give many people the opportunity to get involved.
Designs include "Tree of Life" pendants, which were created in collaboration with Christina Applegate, a breast cancer survivor, to support Applegate's Right Action for Women foundation.
Right Action for Women provides assistance to women who are at increased risk for breast cancer and do not have insurance or the financial flexibility to cover the high costs associated with breast screenings.
And net proceeds from the sales of Alex Woo's "Open Heart" pendants, available in sterling silver and 14k rose gold, go directly to the Women's Cancer Research Fund.
The Women's Cancer Research Fund was created by Honorary Chairs Tom Hanks and Rita Wilson and Kate Capshaw and Steven Spielberg, along with, co-founders Kelly Chapman Meyer, Marion Laurie, Anne Douglas, Quinn Ezralow and Jamie Tisch. They joined forces with the Entertainment Industry Foundation, a leading charity in Hollywood, to address the issue of cancer and the urgent need to develop new ways to treat it, detect it early, and even prevent it.
Alex Woo also offers the universal symbol for breast cancer, the ribbon, in 14k rose gold and silver with a portion of the proceeds to benefit breast cancer research.
Visit Alex Woo to see more jewelry designs for breast cancer awareness.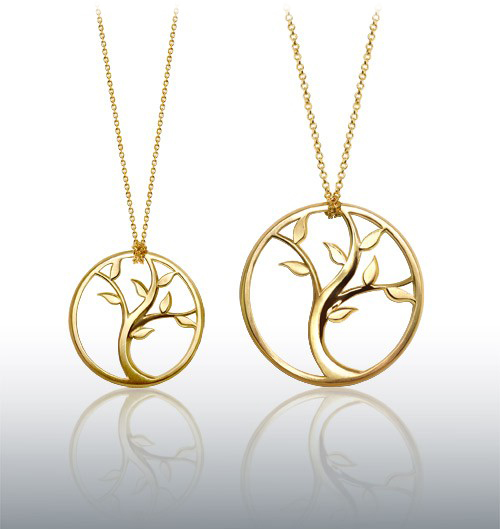 Tree of Life pendants in 14k yellow gold support Christina Applegate's Right Action for Women foundation. Pendants are shown in size large (1.5-inch diameter) and small (1-inch diameter).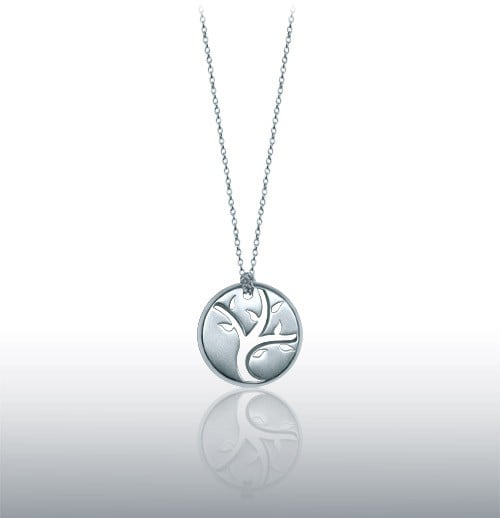 Open Tree of Life disc pendant (shown in sterling silver) supports Right Action for Women, a foundation established by Christina Applegate.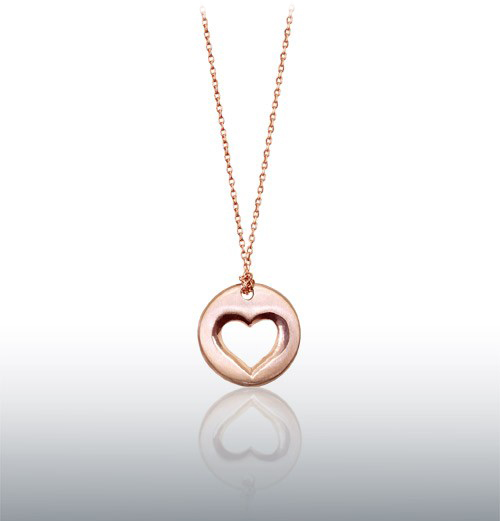 Alex Woo's Open Heart pendants are available in 14k rose gold and sterling silver. Net proceeds from Open Heart pendant sales go directly to the Women's Cancer Research Fund.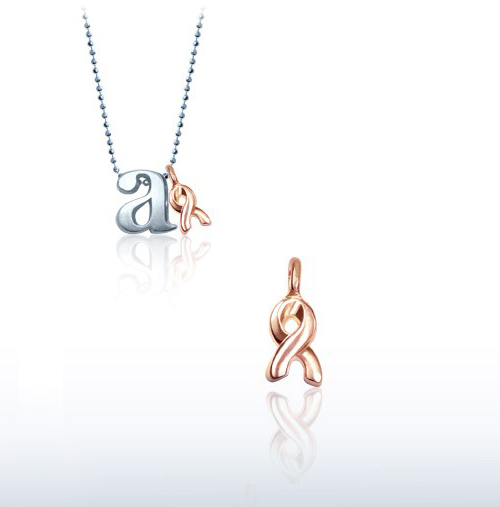 A portion of proceeds from Alex Woo's Mini Addition Breast Cancer Ribbon (available in 14k rose gold and sterling silver) will benefit breast cancer research. (Letter pendant sold separately)
Related topics:
Sotheby's to Auction Estée Lauder's Jewels for Breast Cancer Research

Think Pink! Wear Your Pink Gems for Breast Cancer Awareness