By
Erika Winters
The American Gem Trade Association has announced the winners of the 2014 Spectrum and Cutting Edge Awards, which honor jewelry designers and lapidary artists working in natural colored gemstones and cultured pearls. And this year's event marks the 30th anniversary of the Spectrum Awards, which were launched in 1984.
The annual competition is judged by a panel of industry experts that changes each year. This year's judges included retailer Jennifer McCurry from Marissa Collections, fashion and beauty editor Jennie Ma from The Knot, jewelry designer Barbara Heinrich from Barbara Heinrich Studio, lapidary artist John Hatleberg, and manufacturer Jose Hess. Judging took place last weekend in New York, NY.
From: AGTA:
AGTA Spectrum Awards entries were judged on the basis of overall beauty and wearability, innovative design, effective use of materials, quality of gemstones, quality of workmanship, broad-base consumer appeal and potential to generate positive publicity for natural colored gemstones.
AGTA Cutting Edge Awards honor excellence and creativity in lapidary arts, including natural colored gemstones and cultured pearls, carvings, and other gem materials.
Check out the following highlights from the 2014 AGTA Spectrum Awards, and visit the American Gem Trade Association to see the full list of winners from both the Spectrum and Cutting Edge Awards.
Best of Show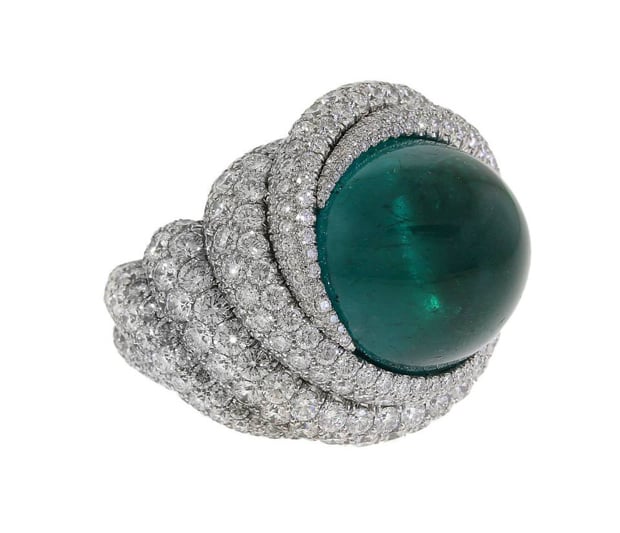 James Currens, J.W. Currens, Inc. • Platinum "Tropical Storm" ring featuring a 22.10-carat emerald accented with 11.47 carats of diamonds. (Winner: Best of Show and Classical – 1st Place)
Best Use of Color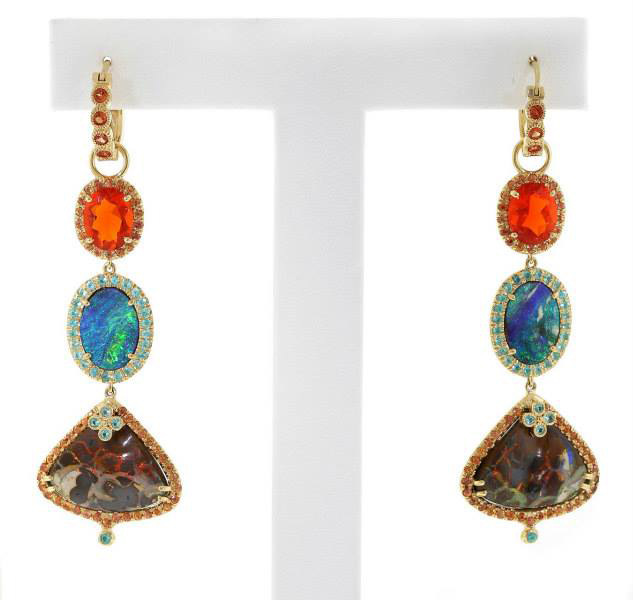 Erica Courtney • 18K yellow gold earrings featuring 22.84 carats of boulder opals and 2.62 carats of fire opals accented with orange sapphires and Paraiba tourmalines
Evening Wear – 1st Place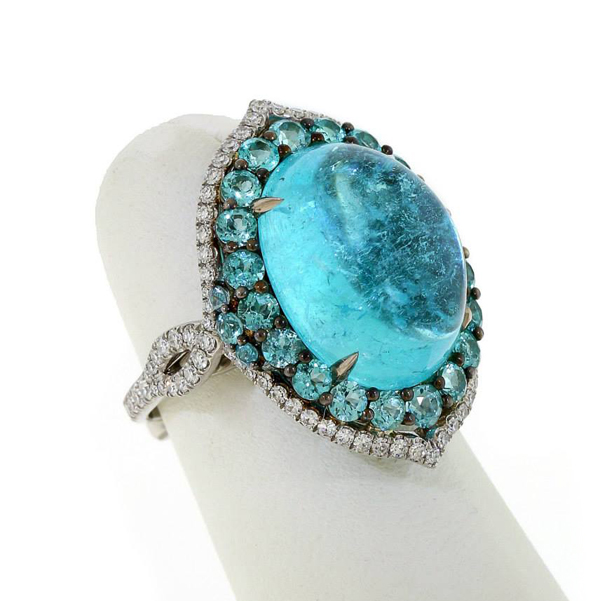 Leon Mege • Platinum and white gold "Blue Fin" ring featuring a 12.75-carat Paraiba tourmaline cabochon accented with diamonds
Business/Day Wear – 1st Place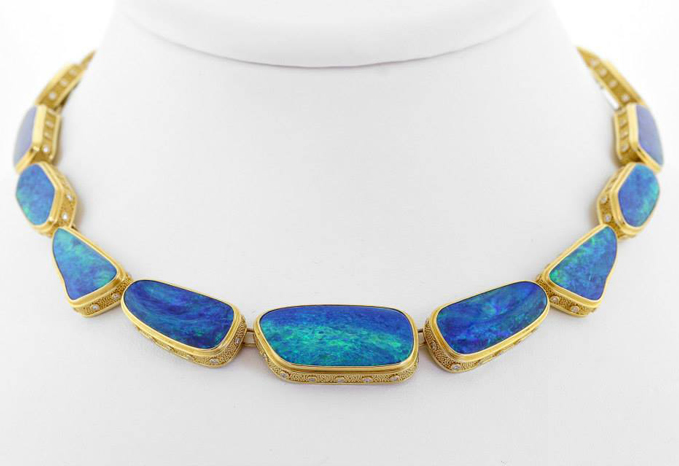 Jonathan Lee Rutledge • 22K and 18K yellow gold "Blue Waters" necklace featuring opal doublets and diamonds
Best Use of Platinum and Color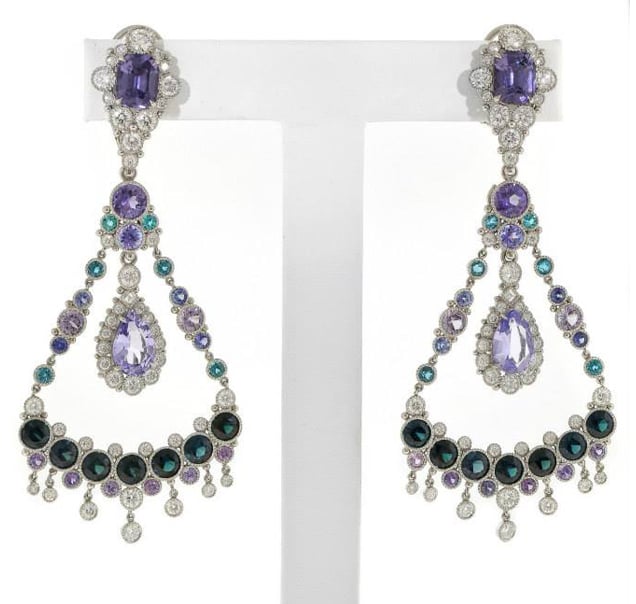 Deirdre Featherstone, Featherstone Design • Platinum "Coleman's Smokey Blues" earrings featuring cushion-cut blue spinels (3.86 ctw.) and lavender spinels (4.02 ctw.) accented with multi-colored sapphires, garnets, tourmalines and diamonds
1st Place Fashion Forward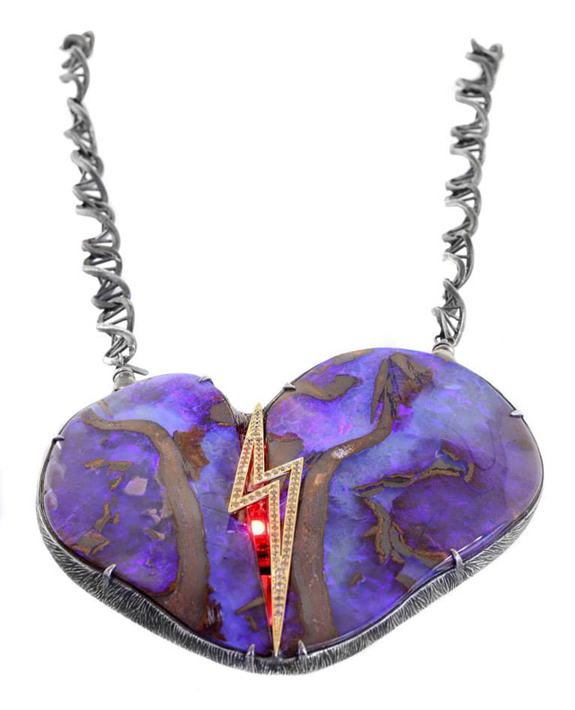 Katey Brunini, K. Brunini Jewels • Sterling and 18K yellow gold "Robot Heart" necklace featuring a 1363.96-carat opal heart accented with diamonds (heart lights up)
Bridal Wear – 1st Place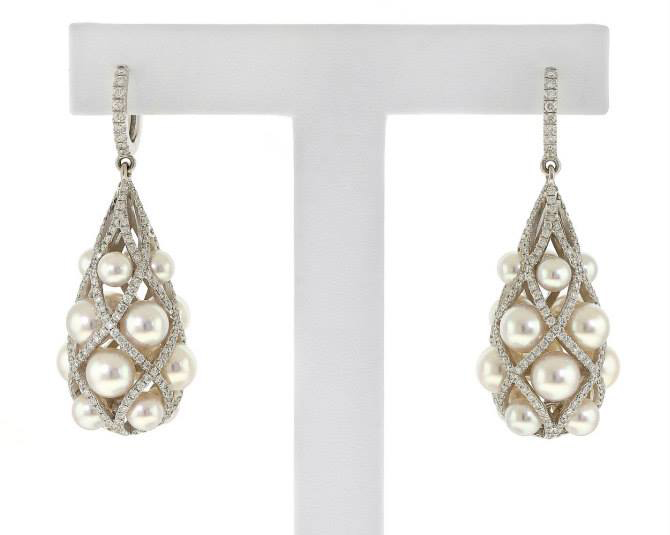 Anil Maloo, Baggins, Inc. • 18K white gold drop earrings featuring 32 Japanese Akoya cultured pearls accented with 4.43 carats of diamonds
Related blogs:
2013 AGTA Spectrum and Cutting Edge Awards Announced

JCK 2013 Platinum Innovation Award Winners

Leon Megé Wins Platinum A' Design Award for "La Petite" Charm Collection