By
Erika Winters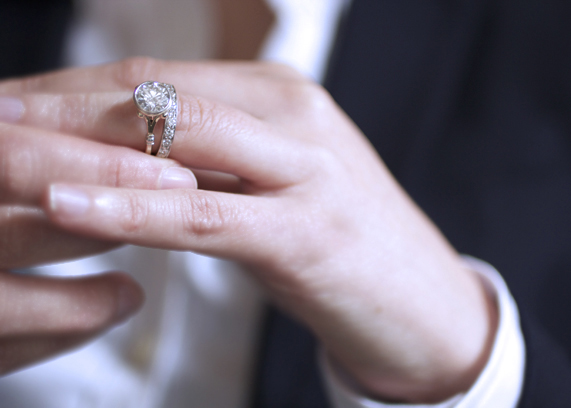 Do you remove your engagement or wedding rings to advance your career? (Image: Erika Winters)
There is perhaps no other piece of jewelry that holds more meaning than a wedding ring. A quick glance at a woman's hand not only reveals her marital status, but it can say a lot about her socioeconomic position, style, personality, and a whole host of other things. We ascribe all kinds of cultural meanings to these small and sparkly objects. But wedding and engagement rings may "say" too much for some women, especially in the workplace.
According to a report on a new survey of 1,712 women in the UK by comparejewellery.com, 35% of women "regularly remove their wedding or engagement rings at work, believing that appearing single would increase their chances of getting a job or being promoted." Another 29% of women take their rings off for job interviews.
The women surveyed were over 18 years old and were asked to exclude practical reasons for having to remove their rings. Ali O'Neill, of comparejewellery.com, explained why these women might remove their rings:
"Even in modern times, many women still firmly believe that they are pigeonholed by their relationship status – fearing fewer opportunities should they be viewed as likely to swan off to start a family, and so take their ring off to avoid this happening. Whether this be the case or not, it's clear that these kind of stereotypes are still a problem in the workplace."
And though many of the women felt that their wedding rings could reduce their job prospects, this does not appear to be the case for men. According to body language expert Judi James in a report at Yahoo:
"Sadly, when a guy's married with a family, there's an assumption that he'll need the job even more as he's the breadwinner, and therefore he'll be more conscientious….Rarely is it ever assumed that he'll be called out when his kid has sore throat."
And though employers can't legally inquire about an applicant's relationship status, their perceptions may affect women's chances of getting jobs or promotions. And as the survey shows, women are removing their rings in response to how they might be perceived, whether it's legal or not.
So women, please cast your vote. Note that the poll does not ask about practical reasons for removing your ring (e.g. for health, safety, or physical comfort). Do you remove your wedding or engagement rings to advance your career? You can check more than one option.
Related forum topics:
Have you not worn your engagement ring to a job interview?
Should Women Wear Engagement Rings to Interviews?