By
Erika Winters
Graff has debuted its "Hair & Jewel" campaign featuring $500 million in rare diamond jewels in the most haute coiffure to date. A throwback to the 1970 original "Hair & Jewel" photograph that launched Graff's global brand, the campaign celebrates the iconic jeweler's 60th year in the business in addition to the opening of Graff's 40th store.
According to a Forbes report, the 1970 campaign was inspired by Graff carrying a suitcase of rare jewels while traveling around the world. And when the company unveiled the photograph of the model with $1 million worth of Graff jewels in her hair, the image was met with international acclaim.
"At that time, this was a highly original concept, which captured the attention of the world's media and was seen in newspapers and magazines around the globe," said Graff.
"Until this time, images showing fine jewellery were typically modelled in a more conservative style. This image broke the mould by using a younger model and created the idea of diamonds being aspirational to younger women."
Graff's new campaign showcases 22 jewels including the "Graff Sweethearts" earrings with 51.53-carat and 50.76-carat D Flawless diamonds and a butterfly brooch with a 33.11-carat D Flawless diamond, the largest stone cut from the 550-carat Letseng Star diamond. Jewels also include notable fancy-colored diamonds, including a 52.73-carat fancy-vivid yellow diamond ring and a 10.47-carat fancy vivid blue diamond briolette pendant.
Visit Graff's "Hair & Jewel" page on the company website to see a striking interactive version of the image shown below that lets you roll over each incredible jewel for details. And be sure to watch the video below to see the making of Graff's new "Hair & Jewel" campaign.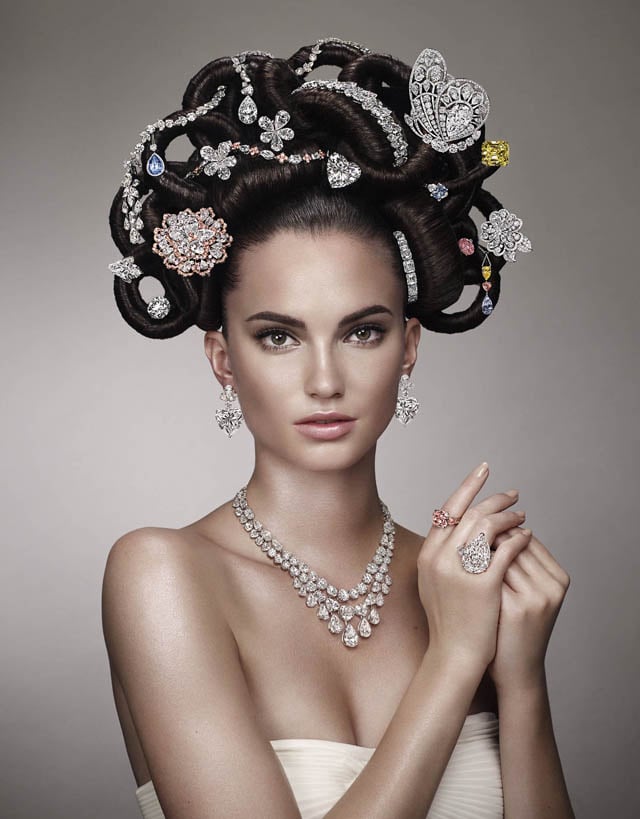 Graff's 2013 "Hair & Jewel" campaign celebrates the jeweler's 60th year in the business and the opening of the company's 40th new store.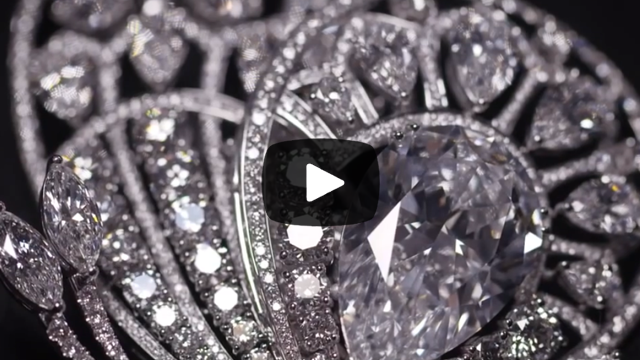 Watch the making of Graff's new campaign. Video requires flash. Watch at YouTube.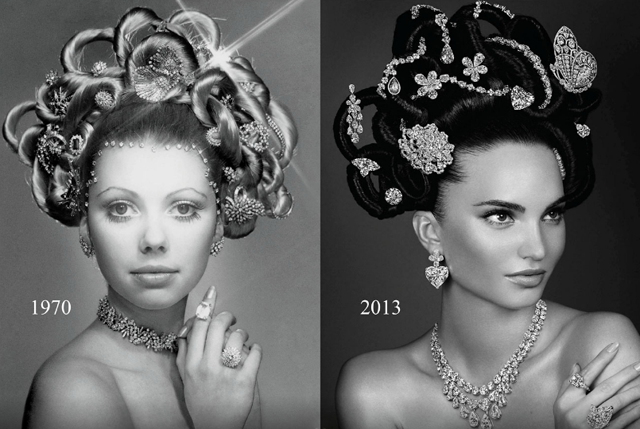 The original "Hair & Jewel" concept from 1970 featured $1 million in Graff jewels. The 2013 campaign delivers $500 million in rare diamonds.
Related topics:
Graff Unveils $100 Million Diamond Peacock
Watch The Graff Pink Set a World Record