By
Erika Winters
A $100 million diamond peacock from Graff, an imaginary diamond "device" conceived by Saturday Night Live, and an incredible gramophone ring created by Leon Megé make for some lively jewelry news.
Check out some of the most colorful stories in real and spoof (thanks SNL!) jewelry news…
Graff Unveils $100 Million Diamond Peacock Brooch
Graff Diamonds unveiled a $100 million diamond peacock brooch at the TEFAF art fair in Maastricht, Netherlands. Read at Forbes.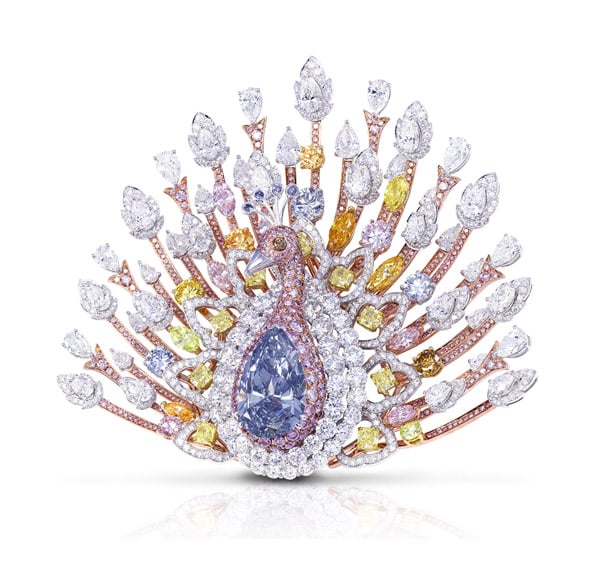 Graff Peacock with a total of 120.81-carats of diamonds, including a 20.02-carat fancy deep blue diamond.
Leon Megé's Gramophone Ring
Leon Megé shares an exclusive look at his incredible new gramophone ring. Read at JCK.
Saturday Night Live Video on the "Nuva Bling"
SNL says, "Upgrade with Nuva Bling, and say bye to your old birth control." Watch at NBC.
Julianne Hough Robbed of 100K Worth of Jewelry
Actress was robbed of 100K worth of jewelry left in her Mercedes. Read at USA Today.
Australian Government Says Gold Price Will Sink to $1,300
Gold prices to decline? Read at JCK.
Tiffany & Co. Strikes Back at Costco Over Use of "Tiffany Setting"
Tiffany & Co. says Costco used dubious sources, including the book "Wedding Planning for Dummies," to prove "Tiffany setting" is a generic term. Read at Rapaport.
Husband-and-Wife Collectors Share Rare Gems and Jewelry
The "Somewhere in the Rainbow" collection includes 230 loose stones and 145 jewelry pieces worth more than $10 million. Read at The New York Times.
De Beers Announced Addition of Five New Sightholders
The De Beers Group announced that it is adding five new sightholders for the 2012-2015 Supplier of Choice contract period. Read at National Jeweler.
Gemfields Unveils Emerald Jewelry Collection with Spokesperson Mila Kunis
Gemfields, Mila Kunis, and 36 jewelry designers launched a bespoke jewelry collection made with Zambian emeralds. Read at Forbes.
World's Most Expensive Dress Features Rare Red Diamond
A diamond encrusted dress with 2000 stones, including a natural red diamond, will go on display in Dubai. Read at Daily Mail.
Samsung Preparing Smartwatch in Race Against Apple
Get ready for smart watches. The race is on. Read at Bloomberg.
Related Blog and Forum Topics:
Tiffany Sues Costco for Allegedly Selling Counterfeit Rings

Click Your Heels with Million Dollar Diamond Shoes
Fancy Colored Diamonds to Dazzle at Sotheby's Hong Kong Spring 2013 Auction