By
Erika Winters
…and in diamond-encrusted shoe news, a pair of Giuseppe Zanotti pumps will go on display at Leon's of Beverly Hills through August 1. Valued at $1 million, the size 37 (U.S. 6) peep-toe pumps are completely covered with a glittering surface of 11,000 diamonds. The shoes were adorned by Crystal Heels, a company known for their bejeweled shoes hand-strassed with Swarovski crystals.
"Without a doubt, our diamond shoes are fit for a queen," said Crystal Heels' founder Evelyn Fox. "While they're genuine, million-dollar diamond shoes, the quality in the application of the diamonds, as well as the fit, comfort and construction of these pumps are priceless. They're not only a perfect pairing for royalty, they're ideal for an A-list actor, fashion icon or any other celebrity trend-setter."
Featuring .03 to .40 carat diamonds, the million-dollar shoes will go on display at Leon's in approximately one month. Contact Leon's of Beverly Hills to learn more.
On a budget? Decadent diamond pumps might be a tad too steep, but Crystal Heels offers similar styles with Swarovski crystals starting at $500.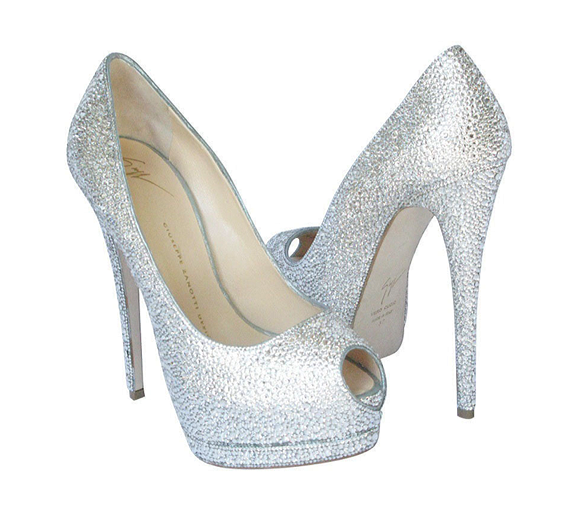 Covered with 11,000 diamonds, the million-dollar diamond pumps are available for sale at Leon's of Beverly Hills.
Related Pricescope Forum and Blog Topics:
What kind of shoes will you wear on your wedding?
Oscars 2013: Celebrity Jewelry Stuns on the Red Carpet

2013 Grammy Awards Jewelry Highlights: Millions in Diamonds, Statement Earrings