By
Erika Winters
Lucara Diamond Corp., a new diamond producer which unearthed a rare 9.46-carat blue diamond late last year, has announced the recovery of a 239.20-carat rough diamond from its Karowe Mine in Botswana. The massive diamond was found along with two other large diamonds weighing 124 and 71.1 carats. The stones will be sent to Antwerp for analysis and then offered for sale later in the year.
"The recovery of these large stones is hugely significant to both Lucara and Botswana. To the best of my knowledge, the 239-carat stone is one of the largest diamonds ever to have been recovered from the highly prolific Orapa kimberlite field in over 40 years of production," said William Lamb, president and CEO of Lucara. "The recovery of a diamond of this size, the confirmed population of blue diamonds, and the strong operational performance in our first few quarters of operation demonstrate the quality of the assets as well as the competence of the operations team."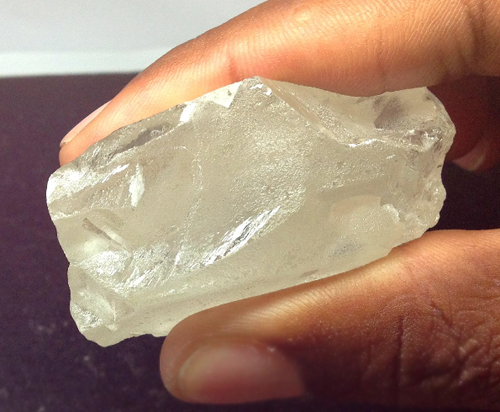 Lucara Diamond Corp. announced the recovery of this 239.20-carat diamond from its Karowe Mine in Botswana. The new diamond producer's two key assets are the Karowe Mine and the Mothae Project in Lesotho. Lucara's 100-percent owned Karowe Mine is in production, while the 75-percent owned Mothae Project has completed a trial mining program. Image: Lucara Diamond Corp.
Related Blog Topics:
Lucara Recovers Rare 9.46-Carat Blue Diamond in Botswana

131.5-Carat Rough Diamond Found in Angola

Christie's to Auction 101.73-Carat D-Color, Flawless Diamond