Blue Diamonds
Natural blue diamonds are exceptionally rare. Larger blue diamonds have achieved record prices at auction in recent years. In October 2010, a 10.95 carat fancy vivid blue diamond, the "Bulgari Blue," broke auction records selling for $15.7 million at Christie's. In October 2011, a 6.01 carat fancy vivid blue diamond ring fetched $10.1 million–setting a world record price per carat for diamonds of its type sold at auction. Blue diamonds great and small are priced according to rarity, and it is not uncommon to find stones under .25 carats with 5-digit prices.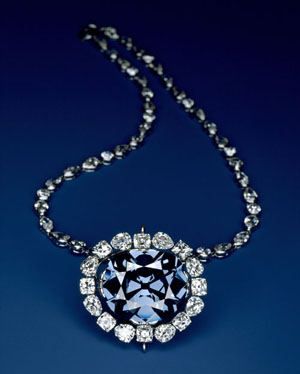 The Hope Diamond
The Hope diamond is the most famous blue diamond in the world. GIA graded the 45.52 carat stone as fancy deep greyish blue. The Hope diamond is a rare Type IIb with a unique orange-red phosphorescence.
Blue Diamond Details
Cause of Color: The trace element boron causes color in blue diamonds. Hydrogen can also cause greyish blue color in diamonds, as hydrogen is generally the cause of grey and even violet color. Greenish blue or green-blue diamonds also contain trace nitrogen impurities. Nitrogen causes yellow in diamond.
Secondary Colors: Common secondary colors in blue diamonds include greenish blue and greyish blue.
Rarity: Natural blue diamonds are exceptionally rare and are priced accordingly.
Grading: Blue diamonds are graded as Faint Blue, Very Light Blue, Light Blue, Fancy Light Blue, Fancy Blue, Fancy Intense Blue, Fancy Dark Blue, Fancy Deep Blue, and Fancy Vivid Blue.
Blue Diamond Gallery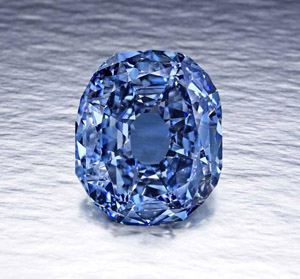 Photo: Smithsonian
31.06 carat "Wittelsbach-Graff" diamond

Photo: Christie's
10.95 carat "Bulgari Blue" Diamond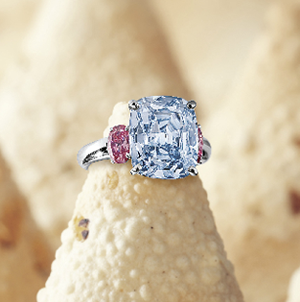 Photo: Sotheby's
6.01 carat fancy vivid blue diamond ring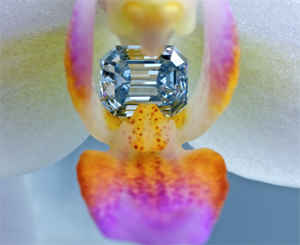 Posted by kenny
.28ct fancy intense blue diamond
Related Topics on Blue Diamonds:
Learn more about Fancy Color Diamonds
Have more questions about fancy color diamonds? Click on the links below or visit our Fancy Color Diamond Guide.
Fancy Colored Diamond Guide Topics:
Fancy Colored Diamond Introduction,
Yellow Diamonds,
Brown Diamonds,
Pink Diamonds,
Blue Diamonds,
Green Diamonds,
Black Diamonds,
Red Diamonds,
Orange Diamonds