By
Erika Winters
An important selection of rare fancy-colored diamonds will be among the highlights of Sotheby's Hong Kong Magnificent Jewels and Jadeite auction on April 8, 2013, at the Hong Kong Convention and Exhibition Center.
Notable pieces include a 3.04-carat heart-shaped fancy-intense blue diamond ring with surrounding pink and white diamonds. The rare blue diamond ring is expected to fetch between $2 and 2.5 million. Natural blue diamonds are highly coveted, and their value has increased exponentially in recent years. Blue diamonds are among the rarest of all fancy colors.
Sotheby's Hong Kong will also offer two pink diamond jewels that were shown last year at the "Out of the Vault: Pink Diamonds and Royalty" exhibition at Kensington Palace in honor of Queen Elizabeth's Diamond Jubilee. The jewels include a 13.10-carat fancy-vivid yellow diamond ring with surrounding purplish Argyle pink diamonds. The ring, known as "The Blushing Gold," is estimated to sell for $900,000 to 1.15 million. Also offered is a stunning matched pair of 4.42 and 4.24-carat pink diamonds set in pendant earrings. The pair, called "The Regalia," is expected to fetch from $1.9 to 2.3 million.
The Hong Kong Spring auction also includes an array of rare colorless diamonds, gemstones, and natural pearls, including an exceptional carved jadeite pendant, "Buddha's Hand," estimated at $1.5 million. A natural pearl and diamond necklace by Van Cleef & Arpels, a Kashmir sapphire and diamond ring by Harry Winston, unheated Burmese rubies, and Colombian emerald jewels will also be featured in Sotheby's sale.
Jewels can be viewed at Sotheby's Asian traveling exhibitions. Visit Sotheby's for event details.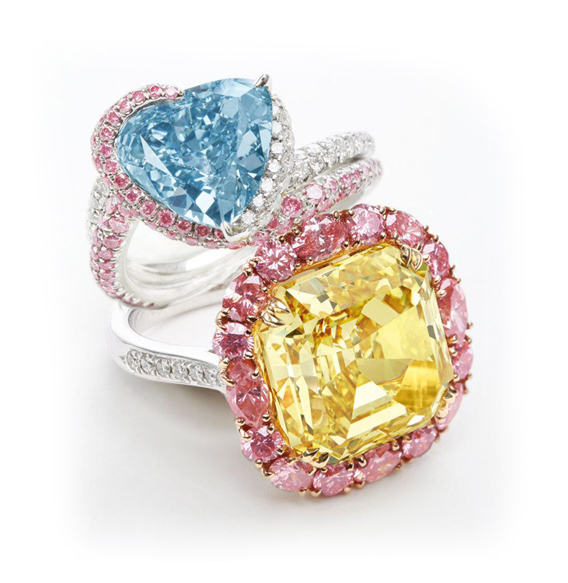 3.04-carat heart-shaped fancy intense blue diamond and pink diamond ring (top), selling estimate: $2 to 2.5 million • 13.10-carat fancy vivid yellow diamond and pink diamond ring, "The Blushing Gold" (bottom), selling estimate: $900,000 to 1.15 million • Photo: Sotheby's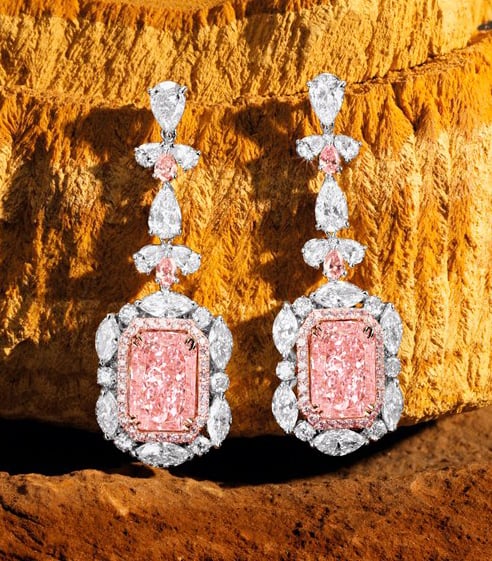 "The Regalia" earrings with matched 4.42 and 4.24-carat fancy pink diamonds, selling estimate: $1.9 to 2.3 million • Photo: Sotheby's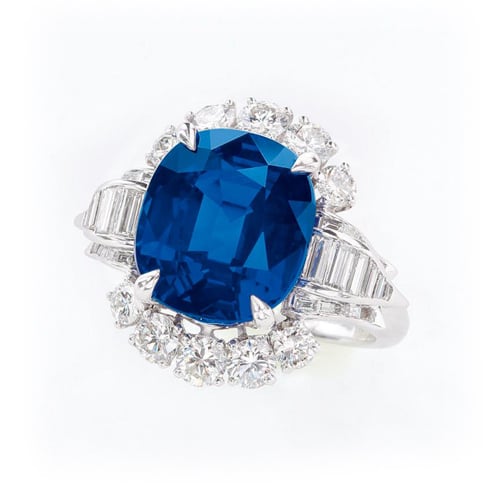 7.68-carat Kashmir sapphire and diamond ring by Harry Winston, selling estimate $700,000 to 830,000 • Photo: Sotheby's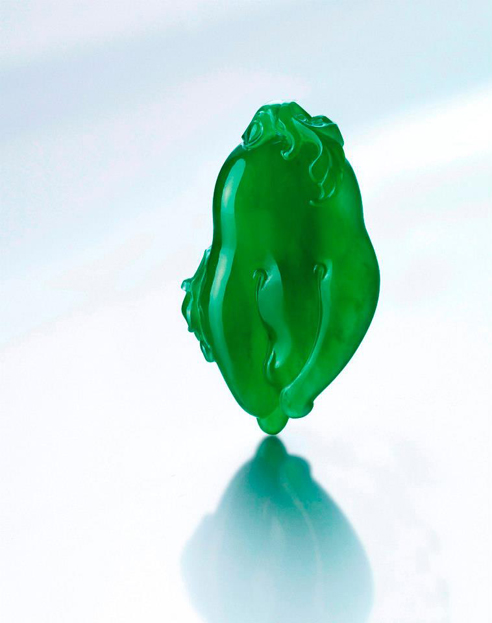 Jadeite carved "Buddha's Hand" with diamond pendant necklace, selling estimate: $1.15 to 1.5 million • Photo: Sotheby's
Related Blog Topics:
Highlights from "Out of the Vault: Pink Diamonds and Royalty"
Sotheby's to Auction Jewels of Estée Lauder for Breast Cancer Research