By
Erika Winters
If you survived the train wreck called "Liz and Dick" starring the infamous Lindsay Lohan, you're in luck. A new biopic on our beloved grand dame of jewels premieres tonight, October 16, at 9:00 p.m./8:00 p.m. Central on BBC America. And this time the 90-minute drama, which aired on BBC 4 last July, stars Academy Award nominee Helena Bonham Carter, Dominic West of The Wire, and jewels by Cartier.
Elizabeth Taylor was well known for her longstanding relationship with Cartier, and she owned some of their most iconic pieces, including the gold and ruby necklace designed for the historic Taj Mahal diamond, a jewel Richard Burton gave to Elizabeth Taylor for her 40th birthday. Taylor also commissioned Cartier to design a necklace for La Peregrina pearl, the legendary natural pearl that Burton gave to Taylor for Valentine's Day in 1969. And that same year, Richard Burton purchased a 69.42-carat diamond from Cartier, later named the "Taylor-Burton," and the jeweler designed a matching necklace for the gem after it was declared too big to wear as a ring.
In the BBC drama, Helena Bonham Carter wears a pink gold and diamond Cartier "Love" bracelet. Bonham Carter spoke about her new interest in jewelry after playing Elizabeth Taylor.
From People:
"I had my birthday during [filming] so I cost him [partner Tim Burton] a lot of money," Bonham Carter said at a recent roundtable event with reporters. "It's funny how things educate you. I'm not really that interested in jewels. But I got a few jewels off … [my] Elizabeth Taylor phase."
Well we have a feeling Bonham Carter's new interest in jewels is here to stay. Tune in to BBC America tonight, and watch the trailer below.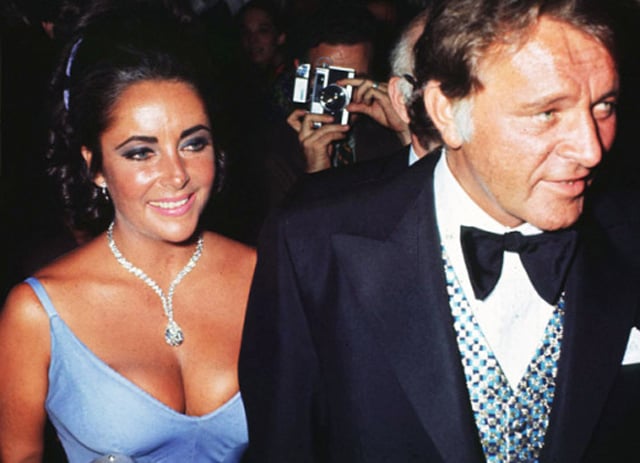 Elizabeth Taylor wore the 69.42-carat "Taylor-Burton" diamond to the 1970 Academy Awards. Richard Burton purchased the diamond from Cartier in 1969 for $1.1 million. "Originally, I wore the diamond as a ring, but even for me it was too big, so we had Cartier design a necklace. I'm still sick that I sold it some years later," said Elizabeth Taylor.
Watch the "Burton and Taylor" trailer. Video requires Flash. Watch at YouTube.
More on Elizabeth Taylor:
Elizabeth Taylor's Jewelry Auction Achieves a Record $115.9 Million

Elizabeth Taylor's Jewels, Cleopatra Headdress to Be Auctioned in October