By
Erika Winters
Back in 2011 we wondered what would happen to Kim Kardashian's engagement ring after her split with basketball player Kris Humphries. They were technically married after all (albeit for 72 days), so many wondered whether she would give the ring back, keep it, or sell it. Kardashian's mother said, "It's a gift. Keep your gift." But some viewed the marriage as a sham and wished it returned to Humphries. Well the ring, which cost a reported $2 million, resurfaced at Christie's New York Magnificent Jewels sale today and sold for $749,000.
The ring was listed as the "Property of a Gentleman," though Kris Humphries' rep made a statement last week confirming his ownership.
"The ring is indeed Kris' property that he received through his marriage dissolution," said his rep in a statement. "He has long-since moved on and is very much looking forward to a successful auction at Christie's on Tuesday."
Created by designer Lorraine Schwartz, the ring was crafted with a 16.21-carat emerald-cut diamond flanked by two 1.80-carat trapezoid-shaped diamonds. The ring was expected to fetch between $300,000 and $500,000.
According to a Forbes report, "Bidding began at $200,000 and quickly rose to $480,000. After a pause it went to $520,000. It then slowly climbed to reach a final bid of $620,000. Commission and fees bought the price of the ring to $749,000."
Though the ring's final price beat the $500,000 high estimate, some wondered whether its provenance would help the sale or actually hinder it. The Kardashian family enterprise is known for its divisive effect on the public. There is perhaps no other entertainment family that people love to hate (or just hate) so much.
Christie's stated that a portion of the proceeds will benefit a charity. Visit Christie's to see more of Kim Kardashian's former engagement ring and auction results.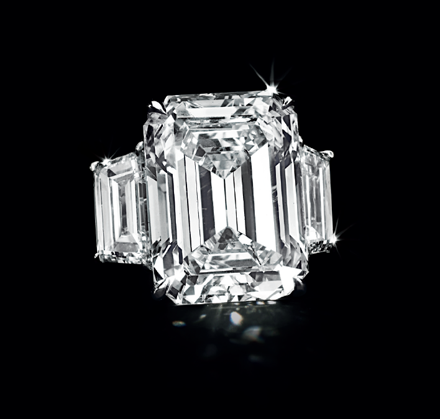 Image: Christie's
More on Kim Kardashian:
"Property of a Gentleman" – Kim Kardashian's Ring up for Auction
Kim Kardashian's Ring – What Gives?