Ok, so many didn't think the marriage would last, but this quickie ending rivals Hugh Hefner's recent break-up with Crystal Harris, though the playboy never made it to the altar, and we are dubious of any true nuptial intent. Matrimonial high jinks aside, what will happen to Kim Kardashian's engagement ring? What gives?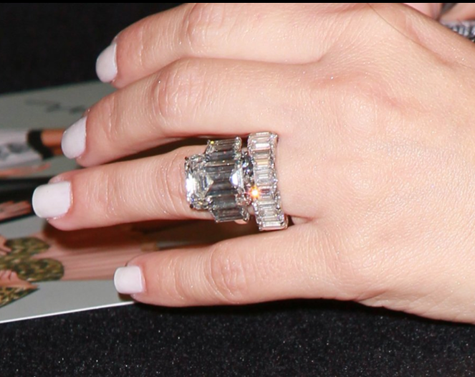 Photo: WireImage
Aggregate news (conjecture) a go-go…
ABC News: Kim Kardashian's Mom Says Daughter Should Keep 20.5-Carat Engagement Ring
"It's a gift. Keep your gift," she said.
MSNBC: Should Kim Kardashian give back her engagement ring?
It's a heated debate on the interwebs, with reality-TV addicts debating whether Kim Kardashian ought to return the ridiculously large, $2 million diamond ring she received from now-ex-husband Kris Humphries.
Radar Online: Deja Vu? Kim Kardashian's Engagement Ring Looks Familiar
*An apt comparison, but the side stones look like emerald cuts as opposed to trapezoids on the Lorraine Schwartz. The center also looks smaller, but hey! Who knows?
Kim Kardashian is under fire for her 72-day marriage, and RadarOnline.com has exclusively learned there's also speculation that the engagement ring from Kris Humphries was actually a ring she already owned.
Israel Diamond News: Diamond Buying Company Eyeing Kim Kardashian's Ring
GGC Diamonds has offered to buy reality TV star Kim Kardashian's 20.5-carat engagement ring, designed by Lorraine Schwartz.
Related Topics:

As if this is shocking, Kim Kardashian files for divorce

Kim Kardashian's $10 Million Lorraine Schwartz Wedding Jewelry