PS Welcome - YouTube
All about PriceScope
Tue, 23 Aug 2011
Kim Kardashian's $10 Million Lorraine Schwartz Wedding Jewelry
H1:
Kim Kardashian's $10 Million Lorraine Schwartz Wedding Jewelry
By
Erika Winters
Kim Kardashian married Kris Humphries in $10 million worth of Lorraine Schwartz diamond wedding jewelry. The reality tv star also wore her 20.5 ctw diamond engagement ring and was later spotted wearing her new wedding band designed by Schwartz. E! News will be showing additional footage of the wedding this Sunday, and a two-part special titled Kim's Fairytale Wedding: A Kardashian Event will air on October 9. Catch a glimpse of the diamond jewelry in this E! News video. (Looking for pics? People has reportedly purchased Kardashian wedding photos for $1.5 million.)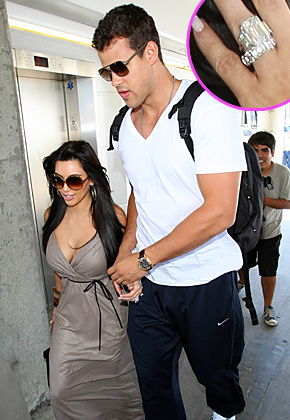 Photo: Credit: Clint Brewer/Splash News
Related Topics:

Updated Celebrity Rings! (Click for more pics of the wedding band.)

Kim Kardashian's wedding

2011 Grammy Celebrity Jewelry Eye Candy

Kim Kardashian engaged...20 carat ring!