By
Erika Winters
*Updated October 14, 2013. Property of Kris Humphries, indeed. "The ring is indeed Kris' property that he received through his marriage dissolution," said his rep in a statement. "He has long-since moved on and is very much looking forward to a successful auction at Christie's on Tuesday."
——
Remember this ring? Though it was over 2 years ago when Kris Humphries gave Kim Kardashian this massive diamond engagement ring, it is still burned into our memories. How could we forget this ring that rocketed through the media along with pictures of the petite celebrity standing next to the giant basketball player whom she ultimately married on television?
Well, the ring has reportedly resurfaced and this time as the "Property of a Gentleman" to be auctioned at Christie's New York Magnificent Jewels sale this October. We first saw this story last week on The Huffington Post, and say it ain't so, the ring is a…ringer for Kardashian's.
Christie's has listed the ring as the "Property of Gentleman" with a portion of the proceeds to benefit a charity. The emerald-cut center diamond is a 16.21-carat I-color, VS1-clarity diamond flanked by two 1.80-carat trapezoid-cut diamonds mounted in platinum and signed L.S. for Lorraine Schwartz. Most of the celebrity websites estimated Kim Kardashian's ring to weigh 20.5 carats total (with a 16.5-carat center and two 2-carat side diamonds), but carat weights are often inflated in the media. So, same designer, similar carat weight.
And Kardashian is no stranger to Christie's auctions. Back in December 2011, she picked up a trio of Lorraine Schwartz jade and diamond bangles formerly owned by Elizabeth Taylor. So we're not surprised to see her old engagement ring surface at the auction house. And we hope it finds a good home.
The ring is expected to fetch between $300,000 and $500,000.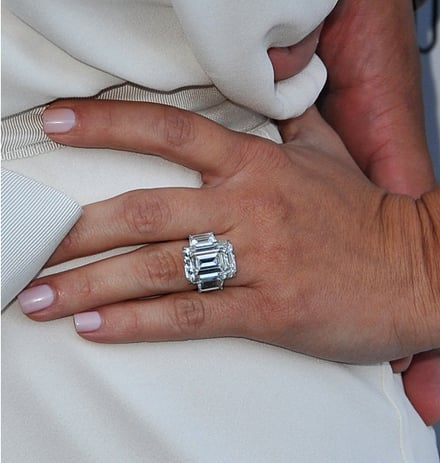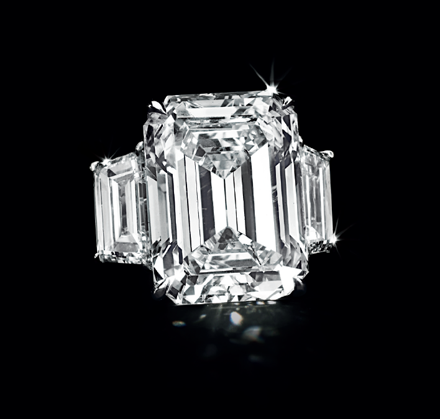 Bottom image: Christie's
More on Kim Kardashian:
Kim Kardashian's Ring – What Gives?

Kim Kardashian's $10 Million Lorraine Schwartz Wedding Jewelry