PS Welcome - YouTube
All about PriceScope
Mon, 23 Sep 2013
2013 Emmy Awards Jewelry Highlights: Long Earrings, Emeralds, and Gold
H1:
2013 Emmy Awards Jewelry Highlights: Long Earrings, Emeralds, and Gold
By
Erika Winters
While necklines went bare--for the most part--long earrings, emeralds, and statement gold stole the show at the 65th annual Primetime Emmy Awards. And for those who were dying to see their favorite TV stars dripping in jewels, looks were pretty tame, outside of Sofia Vergara's whopping $7 million worth of jewels by red-carpet favorite, Lorraine Schwartz. (See below--the majority of our jewelry highlights are from Ms. Schwartz!)

The long earrings worn by Breaking Bad star Anna Gunn, 30 Rock babe Jane Krakowski, and goddess Sofia Vergara were among the best looks of the show.

Emeralds continue to dominate the red carpet and deservedly so, as they look so stunning with so many gown colors and skin tones. We loved to see one of our favorite redheads, Christina Hendricks, deliver the green. And Maria Menounos and Sarah Hyland along with the sultry Vergara all looked gorgeous in statement emerald jewels.

And gold, which has been getting a major push from the World Gold Council's ongoing "Love Gold" promotion, shined with bold looks worn by Jane Lynch and Padma Lakshmi. We hope to see more gold at the next awards shows, as it's not only trending on the red carpet but in bridal and fashion jewelry at large. Go gold!
Long Earrings in Color
Anna Gunn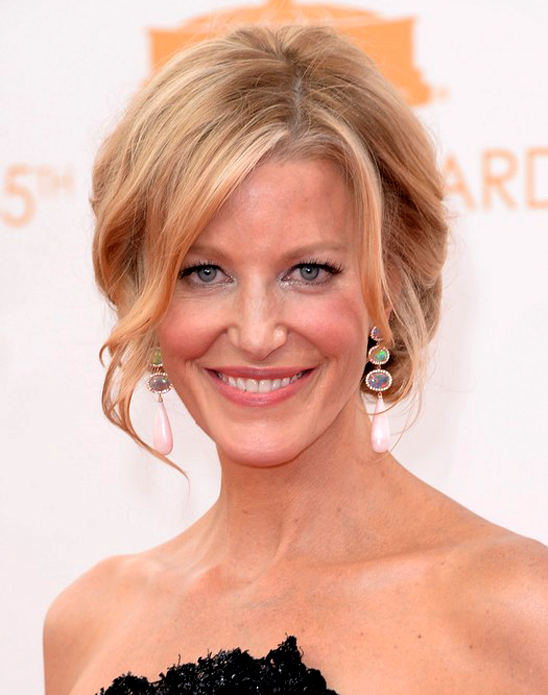 Emmy winner Anna Gunn • Earrings with opal and pink opal by Irene Neuwirth
Jane Krakowski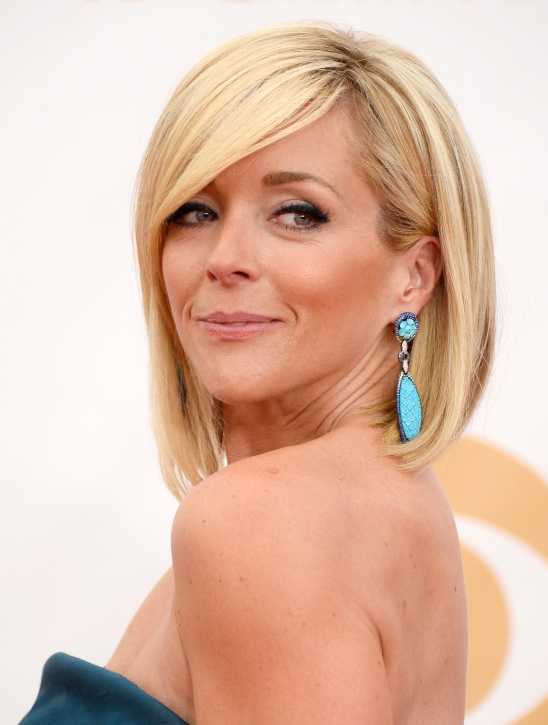 Emmy nominee Jane Krakowski • Carved turquoise earrings by Wendy Yue
Sofia Vergara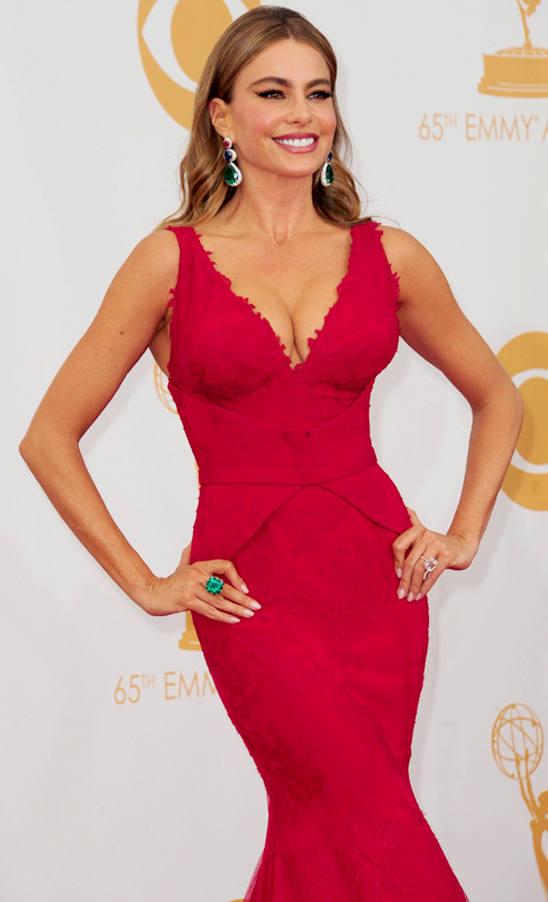 Emmy nominee Sofia Vergara • Ruby, sapphire, and Colombian emerald earrings • 40-carat Colombian emerald and diamond ring • 21-carat diamond ring by Lorraine Schwartz
Emerald City
Maria Menounos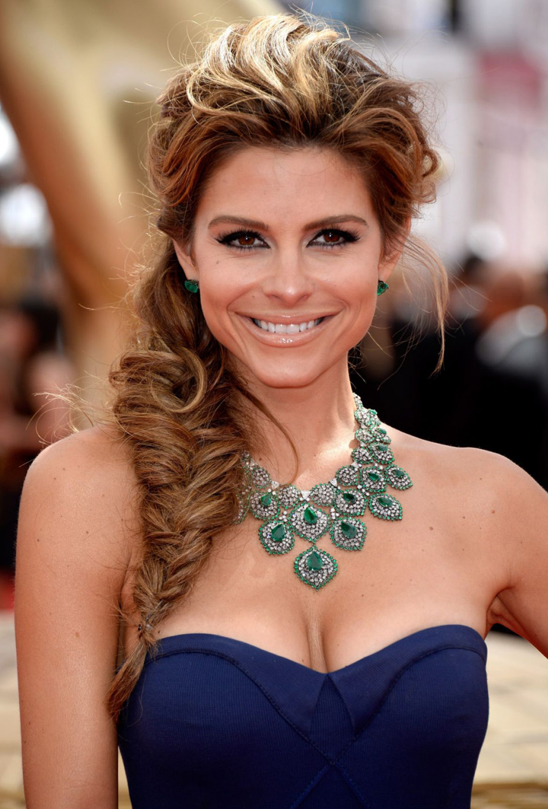 Maria Menounos • Emerald jewelry by Lorraine Schwartz
Christina Hendricks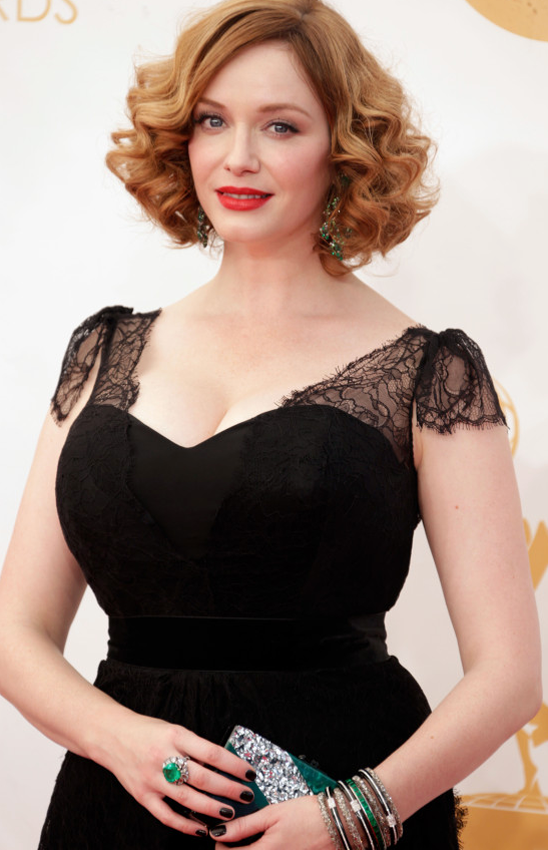 Emmy nominee Christina Hendricks • Emerald jewelry by Lorraine Schwartz
Sarah Hyland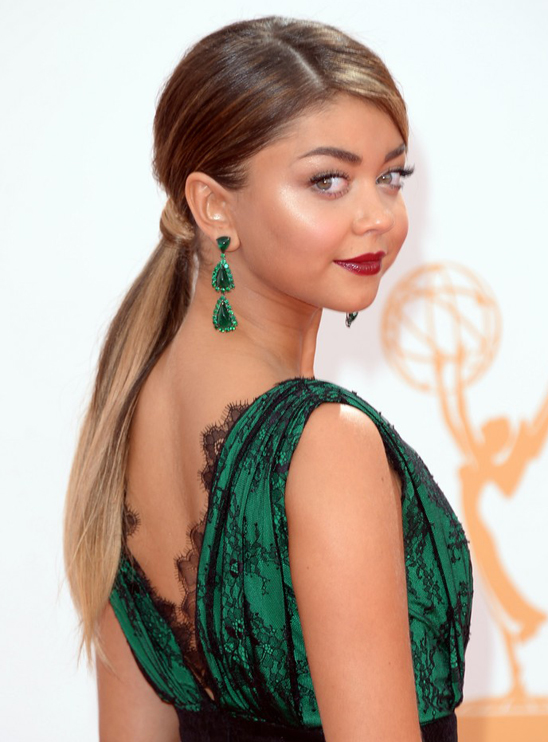 Sarah Hyland • Emerald earrings by Lorraine Schwartz
Gorgeous Gold
Jane Lynch
Emmy nominee Jane Lynch • Badgley Mischka tuxedo and gold jewelry
Padma Lakshmi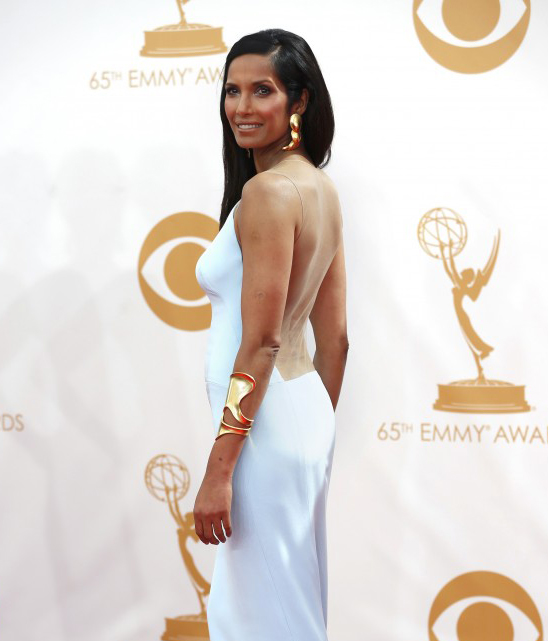 Padma Lakshmi • Gold cuff and earrings by Robert Lee Morris
More 2013 Red-Carpet Jewelry

Oscars 2013: Celebrity Jewelry Stuns on the Red Carpet

Celebrities Shine in Tiffany Jewels at the 2013 Blue Book Ball

2013 Grammy Awards Jewelry Highlights: Millions in Diamonds, Statement Earrings