From Zooey Deschanel's demure diamond looks to Sofia Vergara's whopping 175 carats of Neil Lane diamond jewelry, check out the latest stories in Emmy Awards jewelry news.
Instoremag.com: At the Emmy Awards, Discreet Chic (Slideshow)
The 64th Primetime Emmy Awards arrivals got off to a slow start, especially where the jewelry was concerned.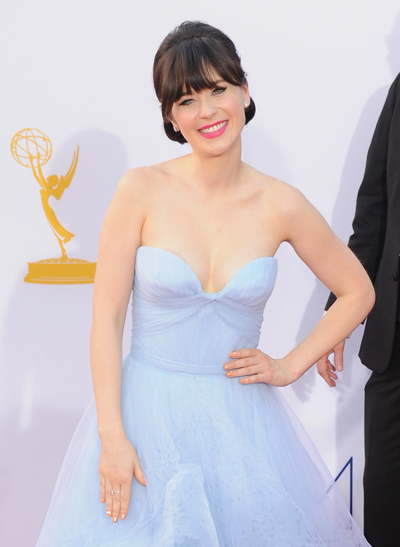 Emmy nominated Zooey Deschanel wore Forevermark Diamonds, including large diamond studs and a fancy pink diamond ring, at the 2012 Primetime Emmy Awards. Photo courtesy of Forevermark Diamonds
The Year's Most Stunning Emmys Jewelry
Platinum Guild International USA: Platinum Jewelry Rules The Red Carpet At The 2012 Primetime Emmy Awards
Hollywood's biggest television stars celebrated their achievements wearing platinum jewelry on the red carpet.
JCK: The Emmys' Red Carpet: The Jewelry Twitter-Verse Reacts
Last night, members of the jewelry industry invaded the Twitter-sphere to talk about their favorite accessory choices of the 64th Prime Time Emmy's.
Daily Mail: Kelly Osbourne's $250k Emmys manicure made of black diamonds
Kelly Osbourne's most expensive accessory at last night's Emmy Awards was her manicure. At $250,000 for just one bottle, the black diamond nail polish sparkled on her fingertips.
LATimes.com: Emmys 2012: Red carpet arrivals

See what stars are wearing on the red carpet.
Related Topics:

Jewelry Highlights from the 2012 Academy Awards
Jewelry from the 2012 Grammy Awards