The Christian Science Monitor published a story earlier this week about "a 35-million-year-old, 62-mile-diameter asteroid crater in eastern Siberia known as Popigai Astroblem." The story went on to reveal that the crater, discovered in the 1970s, contained "trillions of carats" of diamonds but had been kept secret by the Soviet government. The CSM also reported that the diamonds are industrial grade and "twice as hard" as most diamonds but could potentially impact the diamond market.
National Jeweler contacted Russian mining company, Alrosa, and a spokesperson confirmed the existence of the deposit but stated "that the diamonds are not gem quality and there is no connection with the jewelry business."
"There are a lot of synthetic technical diamond producers in the market so the market demand for additional volumes of technical diamonds should be examined," the spokesperson wrote. "Besides, it is not kimberlite row, hard to extract, and located in a territory with no infrastructure, so this is also a question of mining technologies and profitability."
Idex published a statement from an Alrosa spokesperson pertaining to the industrial qualities of the "impact diamonds."
"This mineral, impactite, cannot be used in jewelry, so the Popigai deposit cannot change the structure of gem diamond market or impact diamond prices. Otherwise, this mineral probably can be used for industrial purposes. In any case, this object needs further exploration, as well as research on impactite's features."
Forbes contributor Tim Worstall provided insight on the value of the Popigai Astroblem deposit.
For the value of any mineral deposit is not the value of the minerals in it. It's the value of those minerals minus the cost of extracting them. With gemstone diamonds this doesn't usually matter: the value is so high that almost any mining technique is profitable. But these aren't gemstone diamonds…
So a huge industrial diamond deposit created a lot of hype this week and had people wondering about the impact on diamond prices. The reality? Probably not so much.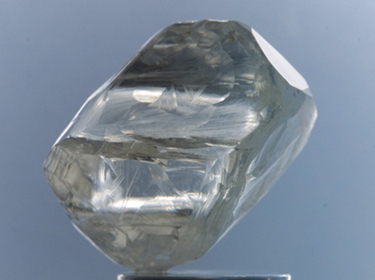 Image courtesy of Octonus
Diamonds from Popigai Astroblem are industrial grade, unlike the rough diamond crystal pictured above.
Related Pricescope Forum Topics and Blogs:
Will the Popigai Astroblem "reveal" change diamond prices?
Diamond Prices Stable in August