Diamond Prices News Roundup – August 2012
Retail diamond prices remained relatively stable in August after price drops charted in June and July. Pricescope tracks retail diamond prices each month from a database of over 450,000 diamonds.
Pricescope members can also track retail price changes with our new Diamond Price Alerts feature. Visit New Pricescope Diamond Search Features: Price Alerts to learn more.
Retail Diamond Price Percentages for August 2012
0 to 0.5 carat: no change
0.5 to 1.0 carat: – 1%
1.0 to 2.0 carats: – 1%
2.0 to 3.0 carats: no change
3.0 to 4.0 carats: + 1%
4.0 to 99 carats: + 2%
Pricescope Updated Diamond Price Chart
The Pricescope diamond price chart illustrates a 1% decrease in retail prices for diamonds of 0.5 to 2.0 carats, a 1% increase for 3.0 to 4.0 carats, and a 2% increase for diamonds of 4.0 to 99 carats. There were no price changes for diamonds of 0 to 0.5 and 2.0 to 3.0 carats. Pricescope has been charting retail diamond prices since 2007.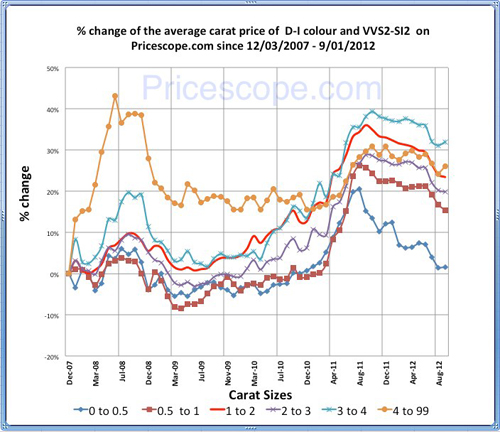 IDEX Online Research: Polished Diamond Prices Fall 8.5% in August

Global polished diamond prices continued to decline in August, falling 2.0 percent compared to July and 8.5 percent year-over-year, according to the IDEX Online Polished Diamond Price Index.
Rapaport: Certified Diamond Prices Relatively Stable in August
Certified polished diamond prices were relatively stable in August, easing the steep declines witnessed in previous months.
Polished Prices: Polished price falls continue through August
Diamond price weakness continued through the traditionally quiet month of August when many offices are closed for the summer holidays.
Israeli Diamond News – DTC Diamond Prices Dropped By 8%
De Beers lowered its prices for diamonds at the Diamond Trading Company sight last week, Rough and Polished reports.
Related Topics:
Diamond Prices Decline in July
New Pricescope Diamond Search Features: Wish Lists, Price Alerts, and More!