PS Welcome - YouTube
All about PriceScope
Tue, 24 Jan 2012
Retail Diamond Price Statistics
H1:
Retail Diamond Price Statistics
If you are looking for current retail diamond prices, visit our diamond price statistics pages to compare average and lowest prices for popular diamond shapes.

The example chart below shows current retail price statistics for round diamonds of 1.0 to 1.49 carats from vendor inventories of over 450,000 diamonds listed on Pricescope. Each link represents an average per carat price for different color and clarity combinations. Please be aware that cut quality can make a difference in price.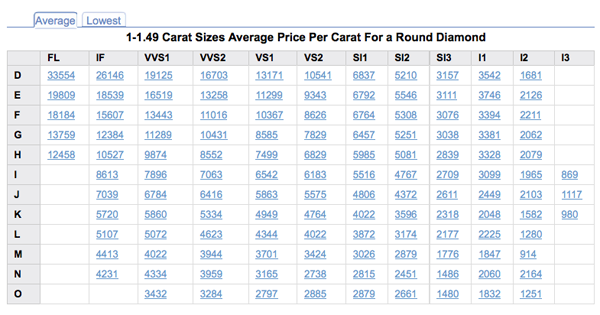 Screen shot taken January 23, 2012. The chart above shows average diamond prices per carat for round diamonds of 1.0 to 1.49 carats.
Related Topics:

Introducing Pricescope's Most Popular Diamond Searches

Diamond Prices News Roundup - 2011 Review and December Updates

Advice needed for 2 ct stone purchase please!