By Erika W.
Retail Diamond Prices Down in January
Pricescope charted a slight dip in diamond prices for the month of January with the most marked drop of 5% in the 0-0.5 carat range. The list below reflects changes in retail diamond prices through February 1, 2012. Prices are based on vendor listings of over 450,000 diamonds in the Pricescope database. The price chart is updated monthly.
Retail Diamond Price Percentages for January 2012
0 to 0.5 ct 5% down
0.5 to 1.0 ct 1% down
1.0 to 2.0 ct 1% down
2.0 to 3.0 ct no change
3.0 to 4.0 ct no change
4.0 to 99 ct 1% down
Pricescope Updated Diamond Price Chart
The Pricescope diamond price chart illustrates a 5% decrease in retail prices for carat weights of 0-0.5 and a 1% decrease for 0.5-1.0, 1.0-2.0 and 4.0-99 carats. There were no price changes for diamonds of 2.0-4.0 carats during the month of January. Pricescope has been charting retail diamond prices since 2007.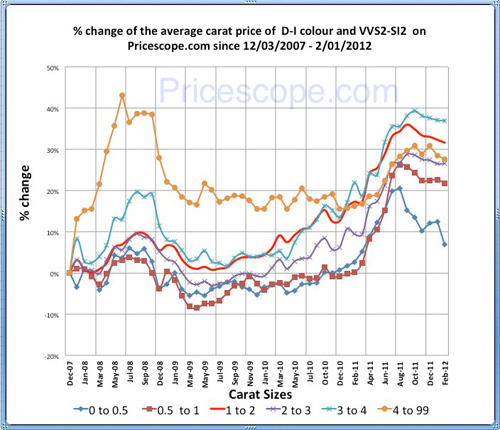 IDEX Online Research: Polished Diamond Prices Slip Again in January
Polished diamond prices slipped by about three-tenths of one percent in January, when compared to December 2011, according to the IDEX Online Polished Diamond Price Index.
Reuters: Polished diamond prices seen hit by economy in Q1
Polished diamond prices may struggle to hold onto gains in the first quarter of 2012 due to worries over the global economic outlook, diamond dealers said on Monday.
Polished Prices: Polished price slide continues in New Year
The New Year started with polished diamond prices continuing their slide, which started in August 2011.
Related Topics:
Retail Diamond Price Statistics
Diamond Prices News Roundup – 2011 Review and December Updates