Diamond Prices News Roundup – July 2012
Retail diamond prices declined further in July following price drops charted in June. Pricescope tracks retail diamond prices each month from a database of over 450,000 diamonds.
Retail Diamond Price Percentages for July 2012
0 to 0.5 carat: – 3%
0.5 to 1.0 carat: – 2%
1.0 to 2.0 carats: – 2%
2.0 to 3.0 carats: – 2%
3.0 to 4.0 carats: – 1%
4.0 to 99 carats: – 3%
Pricescope Updated Diamond Price Chart
The Pricescope diamond price chart illustrates a 3% decrease in retail prices for diamonds of 0 to 0.5 and 4.0 to 99 carats, a 2% decrease for 0.5 to 3.0 carats, and a 1% decrease for diamonds of 3.0 to 4.0 carats. Pricescope has been charting retail diamond prices since 2007.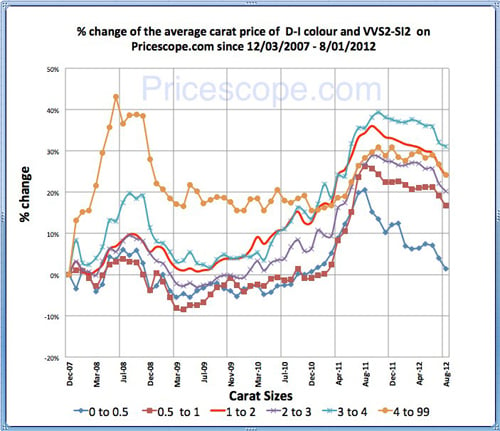 IDEX Online Research: Polished Diamond Prices Decline 6.9% in July

Prices of round polished diamond diamonds dropped in July, dragging down the IDEX Online Global Polished Diamond Price index to 136.6, a 6.9 percent year-over-year decline.
Rapaport: Certified Diamond Prices Decline 5.4% in July
Certified polished diamond prices fell in July as trading continued to slow amid weak economic sentiment.
Polished Prices: Polished prices plummet in July
Diamond prices slumped dramatically during July and allied with weak trading volumes, this highlights the current malaise covering the diamond industry.
The Times of India – Diamonds are now investors' best friend
Sharp fall in polished diamond prices may be worrying diamantaires in Surat. But, high net worth individuals are seeing a sparkle in the crashing prices.
Related Topics:
New Pricescope Diamond Search Features: Wish Lists, Price Alerts, and More!