Some of the latest stories in diamond and jewelry news…
People Style Watch: PHOTO: See Blake Lively's Wedding Ring!
"Ryan chose Lorraine Schwartz to help him find a flawless, light pink oval diamond," a spokesperson for the jeweler says. "They worked together to design a custom setting in rose gold and pave diamonds with a nod to deco."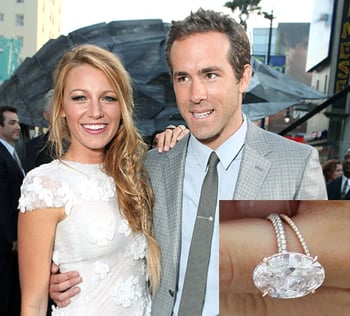 Blake Lively and Ryan Reynolds • Ring image: Alex Gutierrez, People
Telegraph.co.uk: Dress costing £3.5million unveiled in Ukraine
The work of British designer Debbie Wingham, the dress is adorned with 50 two-carat black diamonds, but opinions are divided amongst the fashionistas of Kiev.
CSMonitor.com: Russia reveals shiny state secret: It's awash in diamonds
'Trillions of carats' lie below a 35-million-year-old, 62-mile-diameter asteroid crater in eastern Siberia known as Popigai Astroblem. The Russians have known about the site since the 1970s.
JCK: Embee Diamonds Unveils Magen David Diamond Cut
Embee Diamond Technologies has debuted the Magen David diamond cut to celebrate the 2012 Jewish high holy days of Rosh Hashanah and Yom Kippur.
JCK: What Millennial Jewelry Buyers Want
Younger consumers think differently. Dr. Kit Yarrow has cracked their code. The "echo boomers," also known as Generation Y—defined as people born between 1978 and 2000—is now the largest generation in U.S. history.
NYTimes.com: Technology Steps In to Aid an Old-World Craft
To catch a glimpse of modern-day alchemy, jewelers who attended the JCK Las Vegas trade fair in June ventured past glittering displays of diamonds and gold to an equipment pavilion at the back of the Mandalay Bay Convention Center.
Rapaport News: U.S. Jewelry Store Sales +1%
U.S. jewelry store sales rose 0.6 percent year on year to $1.998 billion in July 2012, according to the government's monthly retail trade report.
Idex: Mumbai Polished Prices Stabilize Though Downward Pressure Persists
Polished diamond prices seemed more stable in the Mumbai market, improving business sentiment and bringing some measure of optimism.
Local10.com: Missing Rothstein Ponzi diamond located
And you thought the 12.08 carat Ponzi diamond ring was a big deal. Authorities are searching for a round 8.91 carat diamond that Ponzi schemer Scott Rothstein bought in 2008 that is worth about $800,000.
Jewellery News Asia: DiamaPen proves a highly practical and reliable tool for trade
DiamaPen is a low-cost, pen-shaped pointer that yields highly accurate results in the screening and separation of synthetic diamonds from natural diamonds.
More Diamond and Jewelry News:

GIA Identifies Lead Glass-Filled Synthetic Ruby
Rio Tinto's 2012 Argyle Pink Diamonds Tender