It's a never-ending saga when it comes to gemstone treatments, and GIA's latest discovery presents us with a new first, a lead glass-filled, flame-fushion synthetic ruby. Lead glass-filled "natural" ruby is common in the marketplace, but as gem treaters attempt to dupe consumers, they have sunk to what GIA describes as a "new low."
In the September 2012 Gems & Gemology eBrief, GIA reports that an 11.52-carat purplish-red stone was examined at the organization's Carlsbad laboratory. The stone tested to be a flame-fusion synthetic ruby with lead-glass filling.
From the G&G eBrief:
While these initial observations were quite standard, microscopic examination revealed details out of the ordinary. A network of uniformly patterned fractures was consistent with those often seen in quench-crackled corundum. These fractures showed a moderately prominent orange-to-blue flash effect, small clusters of whitish devitrification products, and flattened gas bubbles—all indicators of lead glass–filled corundum. EDXRF spectroscopy confirmed the presence of lead. Notably, the gem contained subtly curving striae, which proved it was a flame-fusion synthetic ruby.
Lead glass–filled ruby has been in the market for several years, and flame-fusion synthetic ruby for much longer, but this was the first example of a lead glass–filled flame-fusion synthetic ruby seen in the Carlsbad laboratory. It is unclear why anyone would knowingly produce this gem material, which represents a new low in the realm of lead glass filling.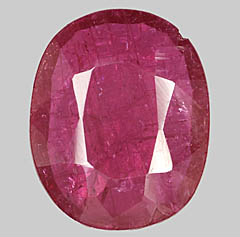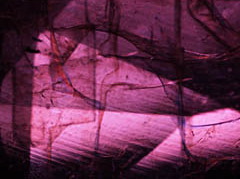 Photos by C. D. Mengason (top) and N. Renfro (bottom) courtesy of GIA. This 11.52 ct synthetic ruby contained curved striae and an orange-to-blue flash effect, identifying it as a flame-fusion product filled with lead glass.
Related Topics:
Lead Glass Ruby – The Nightmare that Keeps on Giving

Corundum (sapphire and ruby) treatment