GIA reported that 10 undisclosed CVD (chemical vapor deposition) grown synthetic diamonds were identified at the Hong Kong laboratory in June 2012. The synthetics appeared comparable to high-quality natural diamonds and ranged from .30 to .35 carats of F-H color and VVS1 to VS1 clarity. Microscopic evaluation revealed no major inclusions, but the synthetics did display weak graining and tiny pinpoints. The samples were inert to long-wave UV and displayed very weak yellow to green-yellow fluorescence after short-wave UV exposure.
GIA also noted that the 10 stones displayed features similar to those of Gemesis CVD synthetic diamonds, indicating that stones had been treated post-growth to improve color and possibly transparency.
The report, from the July 2012 Gems & Gemology eBrief, comes after DTC's May 2012 trade alert announcing that undisclosed CVD diamonds were identified at grading laboratories in Belgium, India, and China.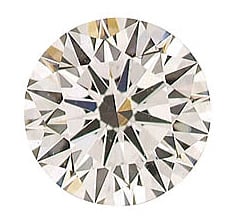 Photo by Jian Xin (Jae) Liao, courtesy of GIA
The stone above is one of the 10 CVD synthetic diamonds (0.30–0.35 ct, F–H color) identified at GIA's Hong Kong laboratory.
Related Topics:
Synthetic diamonds, IGI finds the first real threat


Laboratory Graded Diamonds – What are the benefits for the consumer?