The Crown Jewels of Hollywood to be Auctioned
Christie's has announced the first of a four-day series of sales celebrating Elizabeth Taylor's extraordinary jewelry collection. In an Evening Sale on December 13, 2011, Christie's New York will feature 80 of Ms. Taylor's most iconic jewels. Two Day Sale sessions presenting 189 additional jewels will begin on December 14. A total of 269 jewels will be auctioned. The legendary collection is expected to fetch more than $30 million.
"From her most jaw-dropping diamonds, gems, and one-of-a-kind historic jewels, to cherished 'It's Tuesday, I love you gifts', and never-before-seen keepsakes, Elizabeth Taylor's magnificent collection of jewels promises to captivate the auction world this fall," said Marc Porter, Chairman and President of Christie's Americas.
Highlights from the collection include The Elizabeth Taylor Diamond of 33.19 carats, La Pérégrina Pearl, The Mike Todd Diamond Tiara, The Ping Pong Diamond Rings, The BVLGARI Emerald Suite, The Cartier Ruby Suite, and the Taj Mahal Diamond.
"She collected the best pieces from the best periods, and as a result her collection boasts exquisite examples from the most celebrated of jewelry designers, including BVLGARI, Boucheron, Cartier, JAR, Schlumberger, Tiffany, and Van Cleef & Arpels, among others," said François Curiel, International Jewelry Director and President of Christie's Asia.
To see details and selling estimates for Ms. Taylor's iconic jewels, please visit: Christie's.
The Elizabeth Taylor Diamond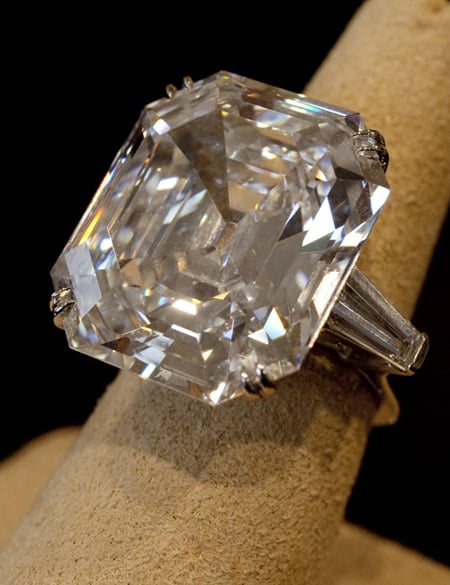 AP Photo/Richard Drew
Formerly known as The Krupp Diamond, The Elizabeth Taylor Diamond is a rare D color Type IIa diamond weighing 33.19 carats. The stone was a gift from Richard Burton, who purchased it in 1968 for $300,000. The jewel is expected to fetch between $2.5-3.5 million.
La Pérégrina – The Legendary Pearl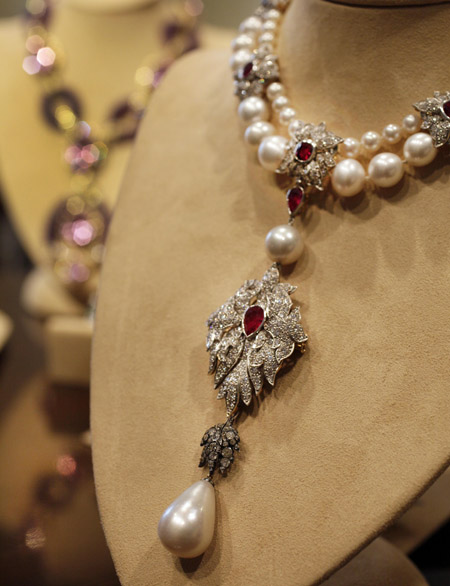 AP Photo/Richard Drew
The size and provenance of La Pérégrina – The Legendary Pearl makes it one of the most remarkable and valuable natural pearls in the world. Selling estimate: $2-3 million
From Christie's: "Discovered in the early 1500s in the Gulf of Panama, the pear-shaped pearl became part of the crown jewels of Spain. Prince Philip II of Spain
gave it as a wedding gift to his wife, Mary Tudor of England, and it later
passed on to the Spanish queens Margarita and Isabel, who proudly wore
the pearl in 17th century portraits painted by Velázquez himself. Richard
Burton famously purchased the pearl for Elizabeth Taylor at auction in
1969 for $37,000, after successfully outbidding a member of the Spanish
Royal family. Inspired by a 16th century portrait of Mary Queen of Scots,
she later commissioned Cartier to design an exquisite new mount of
matched natural pearls and rubies to offset what she called 'the most perfect
pearl in the world.'
Related Topics:
Christie's Confirms Elizabeth Taylor's Jewelry Auction
Saying goodbye to the ultimate diamond lover