By Erika W.
"The Vivid Yellow," a 32.77 carat fancy yellow diamond, will be auctioned at Christie's New York on October 18. The rare fancy vivid yellow diamond, which exhibits exceptional saturation, is expected to fetch $6+ million at the Magnificent Jewels sale.
"The Vivid Yellow literally blazes with color, unlike any yellow diamond I've ever seen. In the world of diamonds, a naturally colored stone of this color and size represents a freak occurrence—an extremely rare geological phenomenon," said Rahul Kadakia, Head of Jewelry for Christie's Americas.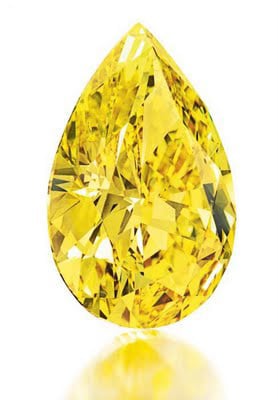 Photo: Christie's
The diamond will go on a pre-sale tour and can be viewed at the following Christie's locations:
London – August 30-31
Geneva – September 12-13
Hong Kong – September 15-16
New York – October 14-17
Related Topics:
Want a 43.51 carat Fancy Intense Yellow Diamond?

Meet the Cora Sun-Drop, a 110 Carat Yellow Diamond
Show off your colored diamonds!