By Erika W.
It's big. It's yellow…and it was seized from Paul Monea, an Ohio businessman convicted of money laundering. Forbes contributor Anthony DeMarco reports that "Monea was convicted of money laundering and conspiracy in 2007 in U.S. District Court in Akron. He tried to sell the gem, known as the 'Golden Eye,' to undercover agents posing as brokers for a South American drug cartel."
The U.S. Marshals Service will be auctioning the 43.51 carat internally flawless, fancy intense yellow diamond in September. The stone is GIA graded – report number 15154097. The diamond will be sold online at Bid4Assets.com with an opening bid of $900,000.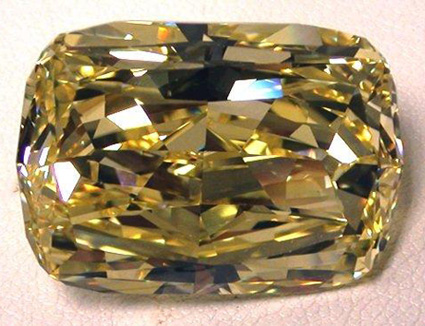 Photo: Bid4Assets
Related Topics:

Meet the Cora Sun-Drop, a 110 Carat Yellow Diamond
Show off your colored diamonds!
Discuss the 43.51 carat fancy intense yellow diamond on the Forum.