By
Erika Winters
One engagement-ring chapter closed and another one opened, as Kanye West proposed to Kim Kardashian with a whopping 15-carat diamond ring a few days ago. Just last week, Kim Kardashian's former engagement ring from Kris Humphries fetched $749,000 at Christie's, though he paid about $2 million for the ring. And though various media reports are describing the two diamond rings as similar (Insert opening strains of "Dueling Banjos" here), they are actually very different from a quality perspective–if the reports are accurate.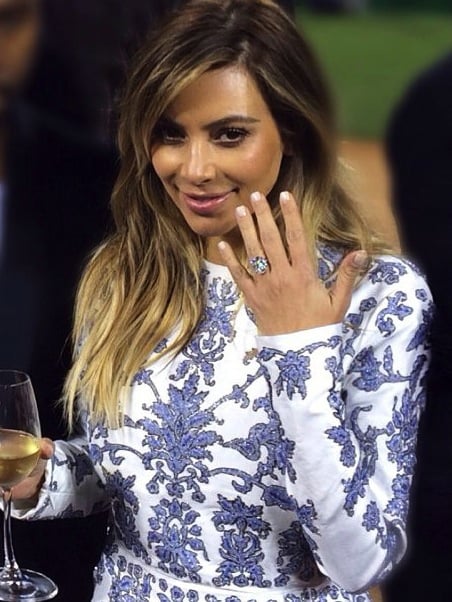 Both rings were designed by Lorraine Schwartz, a Kardashian favorite, but the diamonds themselves are reportedly quite different. We know big rocks tend to look alike in blurry pictures (and we definitely need more images and information), but these diamonds' values are not just based on carat weight but on a combination of factors. Some reports estimate Kim's new ring to be valued between $3 and $8 million.
According to E News, Kanye's ring is a D-color, flawless-clarity, and Type IIa diamond. (We had wondered whether Kanye would select a Type IIa diamond, as they are the most chemically pure and represent less than 2% of diamonds mined worldwide.) Kim's new engagement ring is also set with a cushion-cut diamond, which is different from her previous emerald-cut diamond.
"The ring is flawless. Not just internally flawless, it's flawless. It's a D-stone, the best diamond there is, type 2A…It's a perfect cushion cut diamond," said a rep for Lorraine Schwartz.
Kim's former engagement ring was set with a 16.21-carat I-color and VS2-clarity diamond, which would be valued lower than the new 15-carat diamond, though the carat weight was a bit more.
According to a Forbes report:
"For a frame of reference, a 10-carat, D, internally flawless diamond costs about five times more than a 10 carat I, VS1," said Joe Murawski of Joden World Resources, an antique and estate jeweler.
We had a feeling that Kanye would propose with a very rare diamond ring. If it is indeed the quality that has been reported, Kim is definitely following in the footsteps of her idol, Elizabeth Taylor.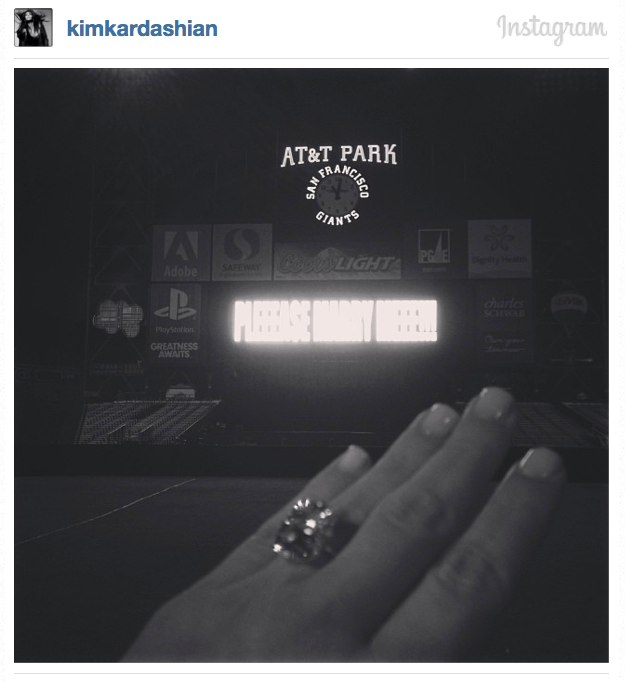 Kim Kardashian posted her engagement ring on her Instagram earlier this week. Kanye West proposed to Kim Kardashian at AT&T park in San Francisco with "Pleeease Marry Meee!!!" emblazoned on the field's jumbotron.
Related blogs:
Kim Kardashian's Engagement Ring from Kris Humphries Fetches $749,000

"Property of a Gentleman" – Kim Kardashian's Ring up for Auction