PS Welcome - YouTube
All about PriceScope
Tue, 06 Nov 2012
Alex Woo's Little Activist Pendants for Election Day
H1:
Alex Woo's Little Activist Pendants for Election Day
By
Erika Winters
A bipartisan effort, Alex Woo's Little Activist pendants unite all Americans on Election Day. Designed and made in the United States, the donkey and elephant pendants are set with trios of diamonds in 14k white gold. The collection, which includes eagles, peace signs, and doves, is also available in silver and yellow gold. No matter what your political persuasion, Woo's pendants provide symbols of American democracy that everyone can enjoy.

Your civic duty awaits. If you haven't already, get out there and VOTE.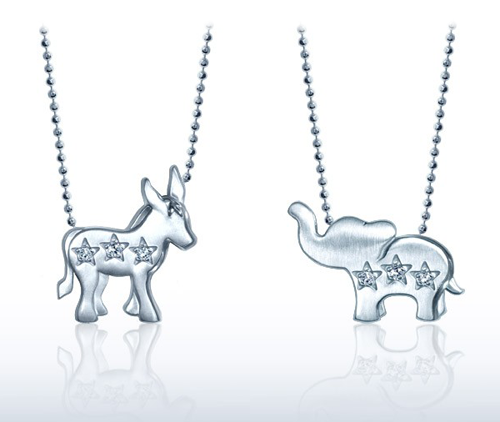 Alex Woo • Little Activist Donkey and Elephant diamond pendants in 14k white gold